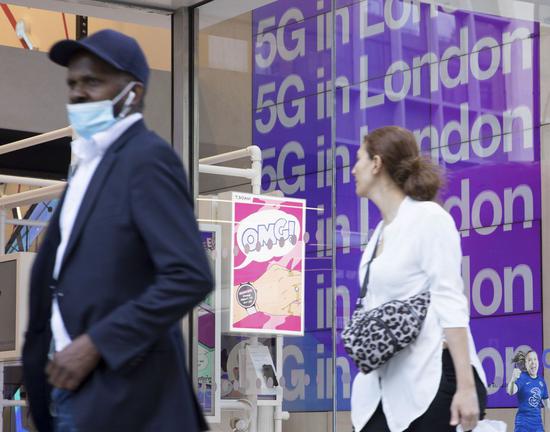 Photo taken on July 20, 2020 shows an advertisement for 5G at a Three store in London, Britain. (Photo by Tim Ireland/Xinhua)
Despite the risk of delaying 5G rollout and costing billions of pounds, the British government has decided to ban Huawei's involvement in the country's 5G networks. This has been seen by experts as harming the fairness and diversification of market access, which is key to building a digital economy driven by 5G.
5G is the next-generation telecommunications technology that has the potential to create a better connected world and become a driving force behind a new wave of digital economy.
In Britain and other major European countries like Germany and France, the telecommunications industry is keen to work with governments, institutions and the wider community to realize the full potential of 5G, which could lead to a digital upgrade in many industrial areas.
To build the infrastructure of 5G, the telecommunications industry needs the best technology and a diversified supply chain, which can only happen with consistent regulating policy by the government.
But in the case of Britain, the government firstly announced in January its plans to safeguard the country's telecommunications security, which is widely seen as approving a restricted role for Huawei in helping build the country's 5G network.
Then in July, the government drastically reversed its policy on Huawei by announcing that buying new Huawei 5G equipment will be banned after Dec. 31, 2020 and all Huawei equipment will be removed from 5G networks by the end of 2027.
This is a costly decision.
Britain's Digital Secretary Oliver Dowden admitted that the decision will lead to "a cumulative delay to 5G rollout of two to three years and costs of up to 2 billion pounds (2.5 billion U.S. dollars)" in the country.
"In a fast moving digital and data-driven economy, this is a very considerable amount of time. While delays can be the result of many reasons, one is that there will be a smaller pool of suppliers, who may not have sufficient capacity to provide the necessary equipment," David Nguyen, senior economist at the National Institute of Economic and Social Research (NIESR), told Xinhua. NIESR is Britain's longest-established independent research institute.
Reducing the number of potential suppliers in the process of building the next-generation telecommunications network in Britain "leads to less competition and potentially higher prices or delays in rollout," said Nguyen.