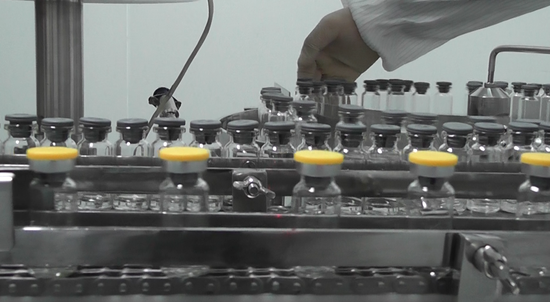 Production line at Dynamiker Biotechnology in Tianjin. (Photo courtesy of Su Yan)
Special: Battle Against Novel Coronavirus
Testing is the way to unlock the coronavirus puzzle, according to Prime Minister Boris Johnson. By enabling public health officials to assess the scale of infection and clear certain population of the risk of carrying the virus, it enables paralyzed societies and economies to brace for reopening.
As countries around the world scramble to secure coronavirus test kits, many turn their eyes to China. Amid the global shortfall in the supplies of testing materials, from nasal swabs to chemical reagents, Chinese manufacturers are churning out test kits to meet that shortfall.
Among the Chinese companies that answered the call is Dynamiker Biotechnology in Tianjin, a high-tech company specialized in invasive fungal disease diagnosis. Soon after cases of coronavirus were reported in Wuhan in late January, it started to research into coronavirus test kits and first exported a batch of antibody test kits to Europe in mid-March.
"Our production capacity has gone up by almost 600 percent, but we still sometimes fall behind due to the enormous demand," said Su Yan, general manager at Dynamiker Biotechnology. Most of the orders come from Centers for Disease Control and Prevention and public hospitals in Europe, that are relying on massive testing to contain the spread of the pandemic.
A tenfold increase in its production capacity has to be realized in order to meet overseas demand, she estimated.
According to an industry report from Dongxing securities, by the end of April, global demand for coronavirus test kits reached 125 million, far outweighing the number of tests performed, around 30 million, which shows there is still a wide gap in the supply of test kits.
Among the basic components of test kit production is colloidal gold, which enables health professionals to use a drop of blood from a finger prick to test for antibodies to COVID-19.
"China has one of the most complete supply chains in the production of colloidal gold method and since it is a labor-intensive industry, many countries in Europe and the U.S. are no longer home to the production base," said Kevin, overseas marketing director at Dynamiker.
As factories in Europe and the U.S. have largely remain shut down in the lockdown period, Chinese manufacturers are uniquely positioned to fill up the shortfall in demand.
But European health authorities have questioned the accuracy of some of the Chinese tests. In late March, a test kit bought from a Chinese company was accused of having only a 30 percent accuracy rather than the expected 80 percent, said officials in Spain. The news triggered calls for tightening quality control of test kits from China.
"To have a clear understanding of the nature of the products is important," said Su, general manager at Dynamiker. For example, antibody tests, if conducted within the first three days of infection, are likely to have a low detection rate, because antibodies can take many days to develop.
The World Health Organization points out that antibody testing can aid investigation of an ongoing outbreak and retrospective assessment of the attack rate or extent of an outbreak, added Kevin. But the use of antibody test kits must strictly adhere to the instructions, for example, the correct storage temperatures, the time limit to use the kit after opening, storage guidelines, and testing methods, must all be respected.
John Newton, national coordinator for the UK coronavirus testing program, once laid out the misplaced expectations some have on antibody tests.
"The test developed in China was validated against patients who were severely ill with a very large viral load, generating a large amount of antibodies, whereas we want to use the test in the context of a wider range of levels of infection, including people who are quite mildly infected," he said.
China has tightened export standards in medical supplies since April, requiring companies to obtain licenses for medical products at the respective receiving countries and from China's National Medical Products Administration. As of April 26, around 160 have been granted access to the European market, yet the number of test kits with permit from China's Medical Products Administration stand at 30.
In the face of surging demand, both Chinese authorities and foreign governments have fast tracked the approval of test kits. For Dynamiker, it took the company less than a month to obtain CE permit from the European Union and around two months to obtain permit from for an antibody test kit from the National Medical Products Administration in China.
"Since we entered the fast approval track, close attention and clear guidance are provided by health authorities, and thus we saved a lot of time," Su noted.
In the U.S., the Food and Drug Administration (FDA) has given emergency use authorizations to about a dozen companies to market COVID-19 antibody tests without going through the agency's normal approval process. Most recently, the FDA started to grant states the authority to approve tests at labs.
One doesn't have to choose between increasing output and compromising product quality, said Su. Because the high standard set by provincial authorities on the control of medical supplies, Chinese manufacturers take a serious and cautious approach when it comes to the development and production of test kits.
"It is unlikely that any company will compromise the quality of the test kits to increase output," Su emphasized. "I don't think that it will happen."