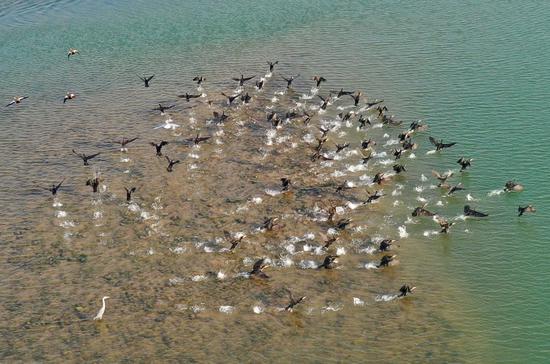 Aerial photo shows birds in the Yellow River Wetland National Nature Reserve in Luoyang City, central China's Henan Province, Dec. 5, 2019. (Xinhua/Feng Dapeng)
China has unveiled a national-level wetland research center to strengthen wetland protection, according to China Science Daily Friday.
The center was jointly established by the Chinese Academy of Sciences (CAS) and the National Forestry and Grassland Administration (NFGA). It will provide technical support for national wetland protection management, wetland ecological restoration and implementation of international conventions.
Science and technology are playing an important role in wetland protection. The CAS has contributed to wetland protection through making action plans for China's wetland conservation and conducting training on wetland resource survey technology, the report cited Li Shushen, vice president of the CAS, as saying.
The national-level research center will focus on major scientific problems facing the development of wetlands in China, Li Chunliang, deputy head of the NFGA, was quoted as saying.
Wetlands play a crucial role in water purification, flood control and maintaining bio-diversity. China has more than 600 wetland nature reserves and over 1,000 national wetland parks.