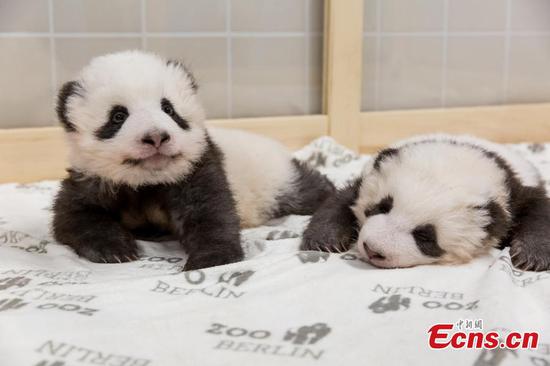 Berlin Zoo's twin panda cubs Meng Xiang and Meng Yuan are nominated as finalists of "panda cub of the year", a category under the Giant Panda Global Awards this year. (Photo provided to China News Service)
(ECNS) -- Berlin zoo's giant panda twins Meng Xiang and Meng Yuan were nominated for "Panda cub of the year" , the zoo announced on Thursday.
The cubs, both male, were born on Aug. 31, 2019 to six-year-old Meng Meng and partner Jiao Qing, transferred to Germany in 2017.
Ding Ding and Ru Yi, two pandas moved from China to Moscow Zoo seven months ago, were also nominated.
"Panda cub of the year" is a category under Giant Panda Global Awards 2019 that animal lovers can vote for online till December 23.
This year's award ceremony will be held in Belgium's Pairi Daiza in January 2020.