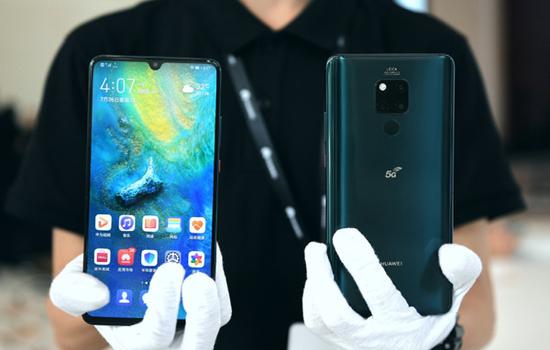 A staff member presents Huawei Mate 20 X (5G) mobile phone at the launching ceremony in Shenzhen, south China's Guangdong Province, July 26, 2019. (Xinhua/Mao Siqian)
Chinese smartphone giant Huawei posted a net profit margin of 8.7 percent in the first half of 2019 despite being added to the "Entity List".
Huawei's revenue rose to 401.3 billion yuan (about 58.3 billion U.S. dollars) in the first half of 2019, with a net profit margin of 8.7 percent, according to the company's semiannual report released Tuesday.
After being added to the "Entity List," Huawei's overseas smartphone business was affected but has now returned to 80 percent of its pre-ban level, said Liang Hua, the company's chairman.
The company's smartphone shipments reached 118 million units in H1, representing a 24-percent growth year on year. Rapid growth was also observed in the shipments of tablets, PCs and wearables, the report said.
Huawei's year-on-year growth of more than 23 percent in H1 indicates that the "Entity List" impact is within control and the company's main products remain basically unaffected, according to Liang.
U.S. suppliers are resuming supplies in a few nonessential fields, but supplies of key components, including licensing of some modules for Android systems, have not been restored, Liang said.
"Our attitude has always been that if the U.S. allows us to use the Android operating ecosystem, we will continue to choose the system. And if not, Huawei also has the ability to develop its own operating system and ecosystem," Liang said.
He said the company's "operations are smooth and the organization is as sound as ever."
With effective management and excellent performance across all financial indicators, Huawei's business remained robust in the first half of this year, Liang said.
The chairman admitted difficulties facing the firm, which he said may affect the pace of growth in the short term. "But we will stay the course. We are fully confident in what the future holds, and we will continue investing as planned," he said.
The company plans to invest 120 billion yuan in research and development this year, according to Liang.