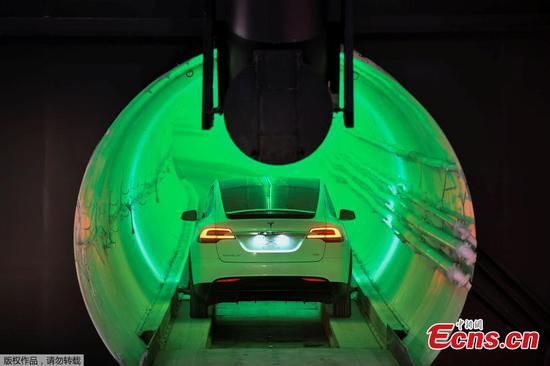 Musk unveiled his underground transportation tunnel on Tuesday, allowing reporters and invited guests to take some of the first rides in the revolutionary albeit bumpy subterranean tube — the tech entrepreneur's answer to what he calls "soul-destroying traffic." (Photo/Agencies)
Following the debut of his first local high-speed underground tunnel, Elon Musk said Wednesday that the next step for his tunnel is transporting 4,000 vehicles an hour at 155 mph (about 249 km per hour).
"Next step for the Boring Company Loop is demonstrating high throughput at high speed," he tweeted.
Musk said the company's vehicles can carry over 100,000 people per hour through one of its tunnels if the vehicles resemble "densely seated" buses, but the company will instead focus on providing a range of vehicle options for customers.
"A variety of vehicles, like normal roads, from a small car to a densely seated bus. Must be seated & belted for high speed safety," he tweeted.
The Boring Company, which was founded by Musk two years ago to address the traffic jams in Los Angeles, unveiled its first test tunnel in Hawthorne, California, on Tuesday.
The 1.14-mile-long (about 1.8-km-long) tunnel starts in a parking lot near the headquarters of SpaceX, another of Musk's properties. The other end of the tunnel is in a neighborhood about a mile away in Hawthorne.
Musk said the demonstration tunnel cost approximately 10 million U.S. dollars.
Under Musk's plan, platforms would carry pods or cars down to an underground series of passages. The platforms would act as electric sleds, transporting cars or pods across the city at speeds of up to 150 miles (about 241 km) an hour.
The initial test tunnel is being used for the research and development of the Boring Company's tunneling and public transportation systems, according to the company.