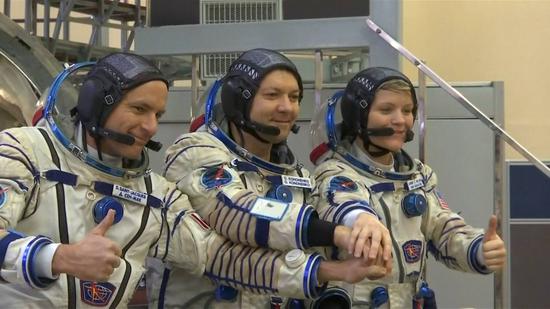 Astronauts ready to go ahead of launch to ISS. (CGTN Photo)
A manned Russian rocket will be sent into space on Monday for the first time since activity was suspended after an incident in October. A failure two minutes into the Soyuz MS-10 mission saw American astronaut Nick Hague and Russian cosmonaut Alexei Ovchinin carry out a ballistic descent. The pair were said to be in good health after their emergency landing.
The launch of MS-11 on December 3 will involve an American and a Canadian astronaut as well as a Russian cosmonaut.
The pressure is on for Russia's space agency Roscosmos, which has been beset by a series of problems this year.
On top of the MS-10 failure, a hole was found earlier this year on a Russian component of the International Space Station. The general director of Roscosmos, Dmitri Rogozin, said his organization had ruled out a manufacturing defect as the cause.
Russian prosecutors have also brought accusations of systemic legal violations against the state-run organisation.
Some critics say Roscosmos has not adapted to the modern age and is no longer fit for purpose.
Natan Eismont, a senior member of the Russian Space Research Institute, said Roscosmos has been plagued with funding problems for years. But he rejected suggestions that privatization is the future for Russia's space agency.
He said: "Everyone says that private is better. Maybe in some places it's better, but in others it's not. In any case, an abrupt transfer to from one method of governance to another is fraught with difficulties. So if such a transition is to be undertaken, it has to be done very slowly. Is Russia ready for such a transfer into private hands? In my opinion, no."
Russian-made Soyuz rockets are the only current system for sending humans into space, adding to pressure on Roscosmos. The company reportedly received some 225 million U.S. dollars from its American counterpart NASA in 2017 for the delivery of astronauts into space.
American astronaut Anne McClain said she has complete confidence in the Soyuz system after the incident in October.
"A lot of people called it an accident, or an incident, or maybe want to use it as an example of it not being safe. But for us it's exactly the opposite, because our friends came home. The systems worked. They worked exactly as they were designed and we are ready to fly. We trust that system."
McClain and her colleagues are due reach the International Space Station six hours after liftoff. The MS-10 mission in October was due to take two days.
Space is a rare sphere of cooperation between Russia and the U.S. and the incident with MS-10 raised some fears that the relationship could be at risk. NASA has reiterated its trust in Roscosmos ahead of the launch of MS-11 but the stakes are very high.