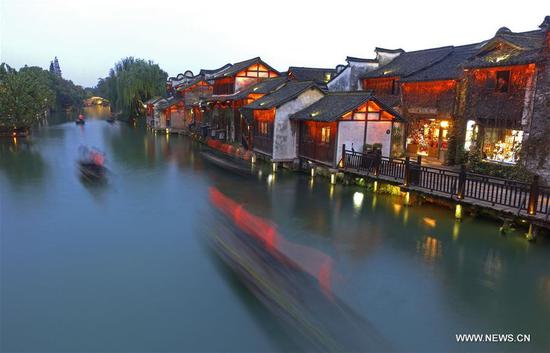 Photo taken on Nov. 6, 2018 shows the scenery of Wuzhen, east China's Zhejiang Province. The fifth World Internet Conference (WIC) is scheduled to run from November 7-9 in the river town of Wuzhen. (Xinhua/Cai Yang)
Special: World Internet Conference 2018
The fifth World Internet Conference (WIC), also known as the Wuzhen Summit concluded in the water town of Wuzhen in eastern China's Zhejiang Province on Friday.
From theories to practical applications, the conference staged a release of world-leading scientific achievements, a state-of-the-art Internet industry expo, and over 20 themed forums and discussions.
This year's conference focused more on the deep integration of the Internet and our world, with the aim to make cyberspace better serve the development of traditional industries and economies.
In his closing remarks to hundreds of attendees, Zhuang Rongwen, minister of China Cyberspace Administration said that the conference has received suggestions and efforts from all sides since its inception in 2014.
"The conference has analyzed the opportunities and challenges we are facing, as we enter the digital world. We encourage all nations to further improve Internet infrastructure, digital economy, cybersecurity, Internet culture exchanges," Zhuang said.
Experts say the conference yielded fruitful results.
15 world-leading Internet scientific and technological achievements were unveiled at the conference.
They were selected out of over 400 candidate projects and programs, with the objective of reaching faster Internet speed, more digital profit, and better web security.
Two reports were also released on Internet development in China and the world, hoping to give references for research and analysis on industry trends.
Yang Shuzhen, president of the China Academy of Cyberspace Studies said that the reports particularly mention the laws and regulations on the Internet since such issues are more prominent today, and they also include new content on hot spots, such as artificial intelligence, big data, and information protection.
Another hot topic was new Internet governance.
Global officials and scholars expressed their thoughts on deeper exchanges and cooperation, despite failing to reach a common ground, at least for now.
Former European Commission vice-president Viviane Reding said that all sides need to do it together with a lot of goodwill.
"It is in the interest of everybody to join forces and try common ways to regulate it," she said.
Joseph Wakaba Mucheru, Kenya's Cabinet Secretary of the Ministry of Information, Communications and Technology said all these aspirations in this year's conference allow relevant sides to see how they can work very closely.
Participants hoped that the theme of creating a digital world for mutual trust and collective governance will be passed on and treasured by all.
More than half of the world's population is online now. That number is fast increasing. And the trends and discussions on a dynamic and healthy Internet will be the core for the future Wuzhen summits.