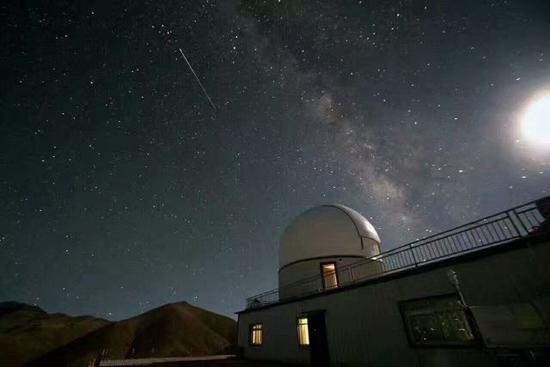 (Photo/Xinhua)
Plateau has ideal conditions for developing astronomical projects
Science and technology authorities in Tibet are promoting the construction of a sub-millimeter-wave telescope which would have the world's largest caliber, as well as a series of astronomical programs on the Qinghai-Tibet Plateau.
The projects are expected to be useful in many fields, including military use.
The telescope could be used to observe how stars form in deep space, Wang Junjie, deputy director of the Science and Technology Department of Tibet told the Global Times on Wednesday.
The proposal was put forward by Chinese astronomers attending a science conference recently held in Lhasa, in Southwest China's Tibet Autonomous Region, Wang said.
The telescope needs high altitude and low precipitation conditions to receive radiation, and the Qinghai-Tibet Plateau is the only region in the country to meet these requirements, Wang noted.
The current largest sub-millimeter-wave telescope in the world has a single caliber of 30 meters, and the one planned by China "is larger than that," Wang said, adding that a wider caliber would result in better observation ability.
A 3-meter sub-millimeter-wave telescope, named CCOSMA, was put into use in 2014 as part of the Yangbajain Astronomical Observatory at Yangbajain Township in the suburbs of Lhasa.
The observatory was built in 2011 and is also equipped with four small-size optical telescopes. A project to construct a 12-meter optical telescope on the plateau is also expected to be included in the schedule of China's 13th Five-Year Plan (2016-20), Wang said.
Optical telescope technology can also serve in military fields, such as navigation and communication, Jiao Weixin, a space science professor at Peking University told the Global Times on Wednesday.
It is also capable of observing satellites in orbit, space debris that could potentially hit space stations, and near-Earth objects such as asteroids which could potentially endanger the planet, Jiao said.
Astronomers are conducting surveys in multiple areas in Tibet, including Nagqu Prefecture and Ngari Prefecture in order to select optimum sites for astronomical projects.
As a former astronomical researcher who participated in the construction of the Yangbajain Astronomical Observatory, Wang is actively promoting site selection work on the plateau, he said.
The Tibet science and technology department therefore is suggesting astronomical science research programs should be brought into the country's second comprehensive scientific expedition to the Qinghai-Tibet Plateau, which started in 2017 and mainly focused on plateau resources, the environment and ecological changes.
If researchers can identify more good sites, it will attract international cooperation to construct large astronomical telescopes, Wang said.
Wang is also submitting a proposal to construct a town on the plateau, where scientists could focus on astronomy, geography and biology research.