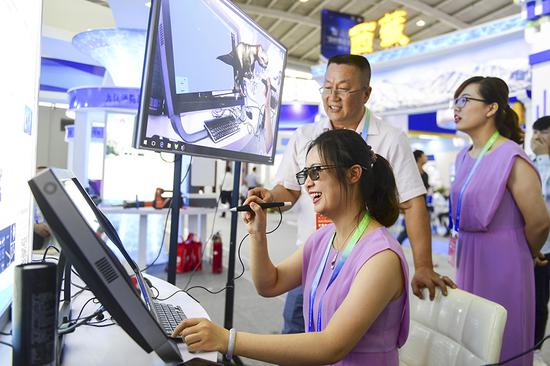 Exhibitors demonstrate virtual reality education materials during a tech exhibition in Shenyang, Liaoning province, on Wednesday. (An Chenhao/For China Daily)
Wang Lili felt she had entered a human body by wearing a pair of glasses.
"Bones, veins, ligaments, marrow - all the anatomical structures are very clear in three dimensions," said Wang, a resident of Shenyang, Liaoning province.
At the 10th APEC Small and Medium Enterprises Technology Conference and Fair held in Shenyang last week, Wang tried virtual reality glasses and anatomy teaching software.
"It's amazing. I did not expect VR would help with my studies," she said.
The software was created by Kmax, a technology company based in Nanchang, Jiangxi province, that specializes in virtual and augmented reality.
Zhou Yihui, the company's sales manager, said the software includes more than 4,600 anatomical structures and 1,200 questions for academic tests, turning students into researchers, instead of mere "knowledge receivers".
Other teaching software made by the company covers astronomy, botany, geosciences, microbiology and zoology.
China's VR market expanded 164 percent in 2017 to 16 billion yuan ($2.5 billion).
With wearable screens and wired gloves, VR/AR software has enabled students to interact with virtual environments, for an experience much richer than that provided by traditional teaching.
Bringing VR into education has become reality. At Sichuan University in Sichuan province, atoms and molecules have been displayed to students in a smart teaching environment.
With mixed reality technology, or MR, students can not only see images of chemical structures but also stretch and distort them with their fingers by touching the screen.
Wang Yulian, deputy dean of Inner Mongolia University of Finance and Economics, said VR, AR and MR combine technology with education and help deliver a kind of situational teaching.
"In a simulated and interactive environment, students are able to communicate with knowledge," she said.
Chen Lijiang, a primary school teacher and visitor of the fair, said technology is about to change traditional modes of teaching.
"By making obscure two-dimensional knowledge three-dimensional, technology definitely will make education more efficient," he said.