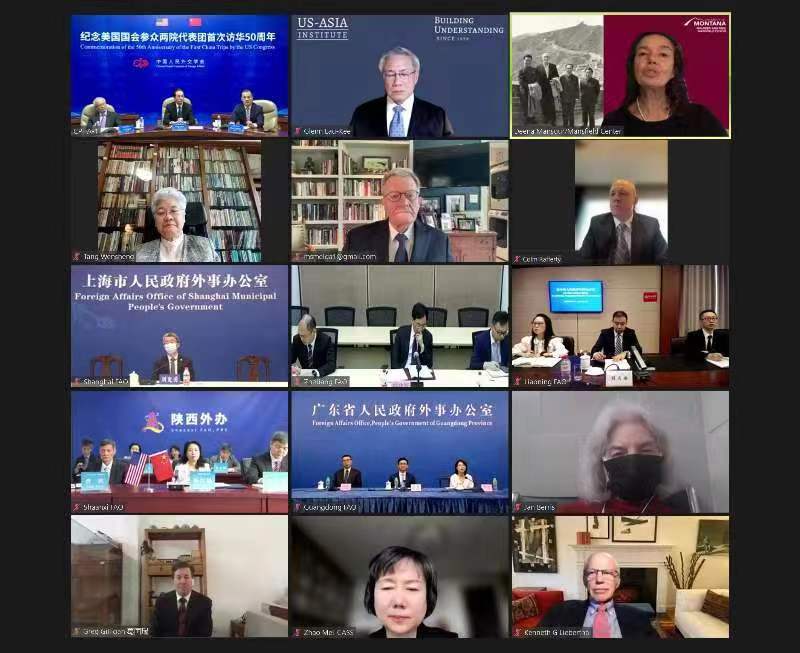 On April 27, the Chinese People's Institute of Foreign Affairs (CPIFA) hosted online Commemoration of the 50th Anniversary of the First China Trips by the U.S. Congress.
Wang Chao, president of the CPIFA, said in his remarks that 50 years ago, shortly after President Nixon's ice-breaking trip to China, both the U.S. Senate Majority Leader Mike Mansfield and Minority Leader Hugh Scott, and the House Majority Leader Hale Boggs and Minority Leader Gerald Ford led delegations to visit China successively, which opened the history of U.S. Congressional exchanges with China and played an important role in promoting the normalization of China-U.S. relations. Premier Zhou Enlai met with both delegations during their stay in China. Besides Beijing, the delegations visited Shanghai, Hangzhou, Xi'an, Changsha, Guangzhou, Shenyang and Anshan, having extensive contacts and exchanges with ordinary Chinese people and government officials at different levels. After returning to the U.S., they expressed firm support for the development of China-U.S. relations in their reports on the China trips. By reflecting on that part of the history, we deeply feel that strengthening contacts and exchanges between the Chinese and American people is vital to the enhancement of mutual understanding and trust. Even in the highly developed information era like today, in-person trips to other countries and face-to-face exchanges are still of irreplaceable values.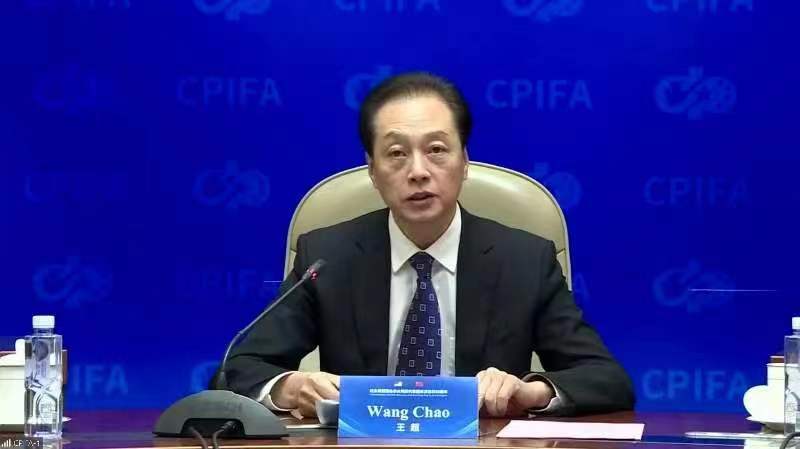 Wang noted that the current international landscape is undergoing further profound and complex changes, and the development of China-U.S. relations is at a critical stage. The more critical the moment is, the more China and the U.S. need to enhance mutual understanding and trust. However, that does not mean so long as Members of U.S. Congress visit China, both sides would see eye to eye on all issues. Actually, some contents of the reports by the first trips to China of the U.S. Congress are also not agreed by us. But as many Members of U.S. Congress have said, having visit to China or not does make difference. Wang Chao welcomes Members of U.S. Congress and congressional staff to conduct exchanges with China in various forms, and expects to host more U.S. delegations to visit China when the pandemic is over. The CPIFA stands ready to work with U.S. friends from various circles to further promote mutual understanding and friendship between the Chinese and American people and to make contribution to constantly pushing forward China-U.S. relations.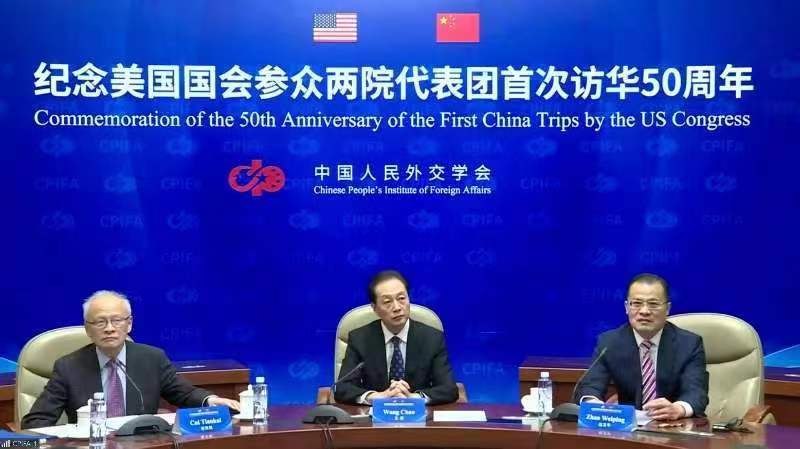 Qin Gang, Chinese Ambassador to the U.S., said, mutual respect, peaceful coexistence and win-win cooperation are the way for China and the U.S. to get along. This was the case 50 years ago, and they are still the basic principles for our relations today and in the years ahead. Our commemoration of the historic visits 50 years ago is just to draw experience from history, ensure China-U.S. relationship will stay the course, and realize its sound and stable development for the next 50 years. In the context of severe and complex China-U.S. relations, we should not set eyes on our differences only. Rather, we should bear in mind our common interests, and show strategic vision, political courage and diplomatic wisdom. We should learn from history, overcome difficulties and challenges, rebuild trust, and take China-U.S. relations back to the right track. Both sides need to take a strategic and long-term view, to strengthen communication, enhance mutual understanding and trust, to promote cooperation in various fields and expand common interests, and to manage differences and prevent crises.
Cui Tiankai, advisor to the CPIFA Council and former Chinese Ambassador to the U.S., said, the older generation statesmen like Senator Mansfield have demonstrated to the world with their actions that, in spite of rather big differences between China and the U.S., the two major countries of different social systems are absolutely able to coexist peacefully and cooperate in beneficial way so long as both sides respect their differences, proceeding from the fundamental interests and common aspirations of the people of the two countries. Currently, China-U.S. relations are facing unprecedented challenges and difficulties, however, just as President Xi Jinping said at the Opening Ceremony of the Boao Forum for Asia Annual Conference 2022 several days ago, "a review of human history teaches us that the more difficult things get, the greater the need grows to stay confident." The Chinese and American people both look forward to a peaceful and stable world and realizing their aspiration for better life. That is what people are yearning for, where the will of people lies and where our confidence comes from. So long as both sides proceed from the fundamental interests of the two peoples and always adhere to the principles of mutual respect, peaceful coexistence and win-win cooperation, the mist and cloud around China-U.S. relations will be dispelled.
Tang Wensheng, advisor of All-China Federation of Returned Overseas Chinese,working then as the interpreter for the official activities such as the meeting between Premier Zhou Enlai and Senators Mansfield and Scott, recalled the important moments of that historic visit as a witness in her remarks. She said that she cannot forget Mansfield's views such as "the need for mutual respect, and equality of treatment among nations"and "to see one time is better than to hear a hundred times" even today. And that, as we remember those statesmen of insight, we cannot help but admire their courage to speak the truth, and be grateful for their indelible deeds which helped pave the way for the normalization of China-U.S. relations. She hoped their spirits remain with us and encourage us to overcome difficulties and go forward courageously.
The distinguished guests from the U.S. side expressed in their remarks the support for China-U.S. relations and the exchanges between the U.S. Congress and China. Steve Daines, U.S. Senator from Montana, said that the U.S. and China are the world's two largest economies, making their relationship too big to fail. And he believes it is critical for U.S. Senators to better understand where China is today. Congressman Larsen said that he visited China many times. Visits like those do provide an opportunity, not only to foster diplomatic engagement between our countries, but also to learn from one another and to build personal relationships. He looks forward to working together with all sides in the spirit of the Mansfield-Scott Delegation to build a greater understanding in people to people ties. Congressman LaHood said that there will always be areas of both cooperation and strain within the relationship and he supports regular and continued dialogue to best meet these challenges. Max Baucus, former U.S. Ambassador to China and former U.S. Senator, said, Senator Mansfiled was a courageous truth-teller. And he was saying what he believed to be true, based on his own experience in China. To commemorate the historic visit will be a guide for people to think twice. The U.S. and China are in the world together, and the two countries have to work with each other. Glenn Lau-Kee, chairman of the U.S.-Asia Institute, said, dialogues, like the ones which took place 50 years ago, are more important than ever and critical to building understanding and facilitating communication. Since 1985, The U.S.-Asia Institute works closely with the CPIFA to organize congressional member and staff delegations to China, which provided congressional members and staff a unique opportunity to observe the dynamic nation first-hand and to further their understanding of the complex of China-U.S. relations. Executive Director Mansour said, a productive relationship with China is critical to the U.S. and to the Mansfield Center. The 50th anniversary of Senator Mansfiled's trip to China presents an opportunity to reflect on the history of U.S.-China relations in the past half century and to contemplate the path forward for the two world's leading powers. While we are at one of the most challenging times in our relationship, it is important that each side finds a way to set aside differences and a path forward that serves stability and peace.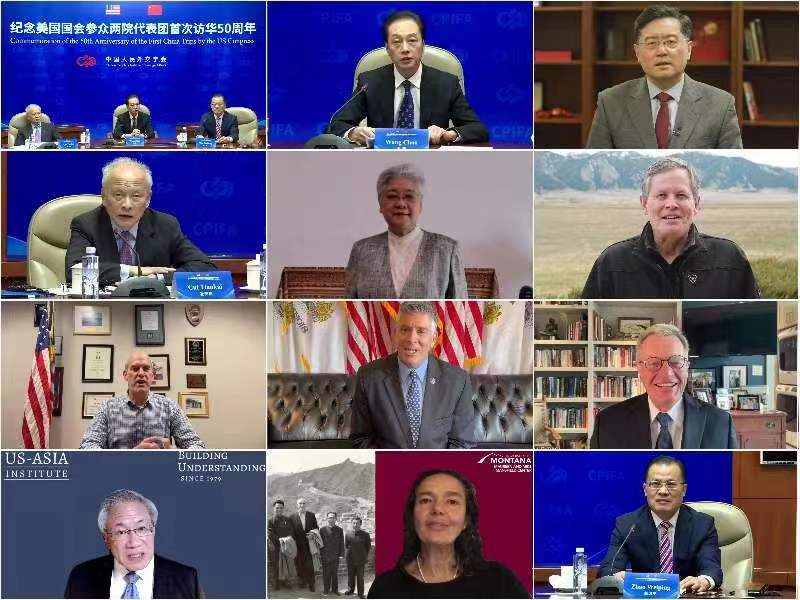 There are about 100 Chinese and American participants who attended the event either in person or via video link, including officials from China's National People's Congress, relevant government departments and municipal or provincial foreign offices of Beijing, Shanghai and of provinces of Liaoning, Zhejiang, Guangdong, Shaanxi, Chairman of the American Chamber of Commerce in China, representatives from American enterprises in China, representatives from the U.S.-Asia Institute, the National Committee on U.S.–China Relations, the U.S.-China Transpacific Foundation, the Mansfiled Center and relevant congressional staffers. A video clip of 1972 trips by the U.S. congress was shown during the event, which was chaired by Ambassador Zhao Weiping, Vice President of the CPIFA.
Congressmen Rick Larson and Darin LaHood, Co-Chairs of the U.S.-China Working Group of the U.S. House of Representatives, and Ms. Deena Mansour, executive director of the Maureen and Mike Mansfield Center at the University of Montana also attended the event.