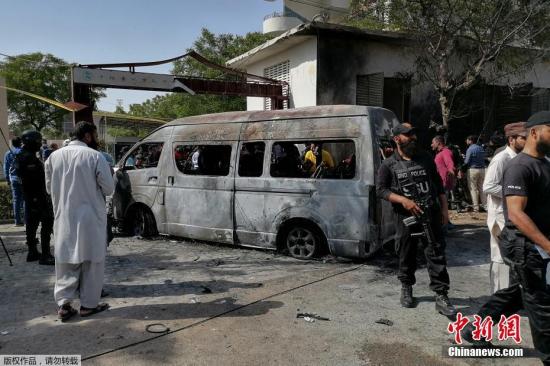 A van carrying Chinese nationals is hit by a bomb blast in Karachi, Pakistan, April 26, 2022. (Photo/Agencies)
(ECNS) -- Pakistani Prime Minister Shehbaz Sharif visited the Chinese Embassy in Pakistan after a bomb hit a shuttle passenger van of the Confucius Institute at the University of Karachi on Tuesday, vowing to hold the culprits to account.
The prime minister expressed his condolences to the victims killed in the Karachi terrorist attack, which left three Chinese teachers dead, one injured and caused several Pakistani casualties.
"We offer our deep condolences to the government of China and the people of China and convey our sincere sympathies to the bereaved families," said the prime minister.
On behalf of Pakistan and the people of Pakistan, we will hunt down these perpetrators, culprits, and killers and will not rest until we have caught them and given them exemplary punishment, Sharif said.
The friendship between China and Pakistan is proverbial, and "we will not allow any kind of disturbance in this friendship," he added.
The prime minister promised that Pakistan would take additional measures to protect the lives of Chinese friends.
The blood of Chinese cannot be shed in vain, and those behind this incident will surely pay the price, Chinese Foreign Ministry spokesperson Wang Wenbin said Wednesday.