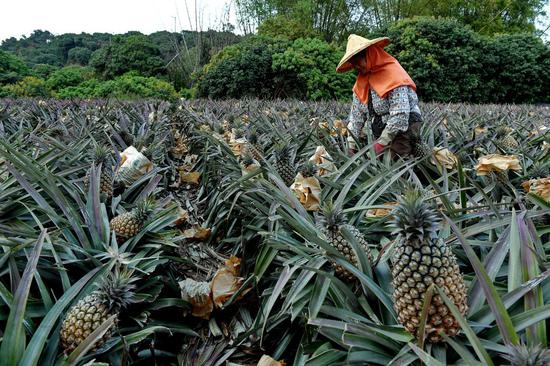 A farmer harvests pineapples in Dashu District of Kaohsiung, southeast China's Taiwan, on March 13, 2019. (Xinhua/Zhang Guojun)
The Chinese mainland's suspension of pineapple imports from the Taiwan region starting from Monday is a normal preventive measure to ensure biosecurity and is completely reasonable and necessary, said a mainland spokesperson.
Zhu Fenglian, spokesperson for the Taiwan Affairs Office of the State Council, made the remarks on Monday in response to a query about the accusations from Taiwan's Democratic Progressive Party (DPP) authority against the mainland regarding its decision.
Zhu said that the law-based customs inspection of imported agricultural products is a requirement for executing relevant laws, regulations and standards, preventing plant diseases and safeguarding people's rights and interests.
The DPP authority has made a malicious interpretation of what is actually a technical issue in an attempt to attack and smear the mainland, said Zhu.
Zhu said the mainland has always attached great importance to the safety of agricultural products and will continue tight control of it.