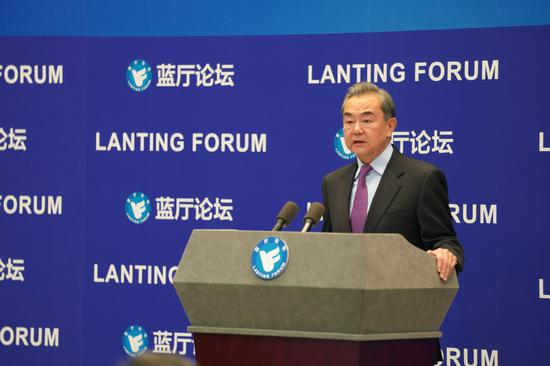 Chinese State Councilor and Foreign Minister Wang Yi delivers a speech at the opening of the Lanting Forum with the theme of "Promoting Dialogue and Cooperation and Managing Differences: Bringing China-US Relations Back to the Right Track" in Beijing, China, Feb 22, 2021. (Photo by Feng Yongbin/chinadaily.com.cn)
Beijing and Washington should respect each other, boost dialogue and manage differences, restart win-win cooperation and clear a path for resuming bilateral exchanges to bring China-U.S. ties back on track, State Councilor and Foreign Minister Wang Yi said.
Wang made the remark when addressing veteran officials, scholars and prominent figures from both countries at the Lanting Forum in Beijing on Monday.
Recalling then U.S. national security advisor Henry Kissinger's icebreaking visit to China 50 years ago, Wang said China and the U.S. should "make once again the sensible and right decision" with a sense of responsibility for the two countries and the world.
Wang said it is important to respect each other and not interfere in each other's internal affairs.
In particular, Wang said that China urges the U.S. to stop smearing the Communist Party of China and China's political system, stop conniving in or even supporting the erroneous words and deeds of separatist forces for "Taiwan independence" and stop undermining China's sovereignty and security on internal affairs concerning Hong Kong, Xinjiang and Tibet.
He also said it is key for both nations to step up dialogue and properly manage their differences as well as to move in the same direction to restart mutually beneficial cooperation.
"We hope that the U.S. side will adjust its policies as soon as possible, among other things, remove unreasonable tariffs on Chinese goods, lift its unilateral sanctions on Chinese companies and research and educational institutes and abandon irrational suppression of China's technological progress, so as to create necessary conditions for China-U.S. cooperation," Wang said.
Speaking on clearing the path for the resumption of bilateral exchanges in all areas, Wang said he hoped the U.S. would "act as early as possible to lift its restrictions on Chinese educational and cultural groups, media outlets and institutions for overseas Chinese affairs in the U.S.".
At the forum, Kevin Rudd, president and CEO of the Asia Society and former Australian prime minister, welcomed the areas of cooperation proposed by Wang.
Beijing and Washington should work on reducing the risk of their competition running into conflicts, and hard limits are needed to manage the escalation of competition, Rudd said via video link.
Rudd called for continued strategic cooperation on global challenges that are "increasingly pressing", including climate change and economic recovery following the pandemic, which will secure global interests as well as the interests of China and the U.S..
Former U.S. treasury secretary Henry Paulson told the forum via video link that U.S.-China relations are the most important bilateral ties in the world, and both sides should minimize and mitigate conflicts.
He expressed concern over decoupling between the two countries and said they "should focus on easier issues" and "can build on moving forward" on global issues such as the environment and climate.
Hao Ping, president of Peking University, said he hoped that universities in the two countries can develop new forms of cooperation and deepen their long-standing friendship.
Universities have encouraged and supported one another during the pandemic and signed or renewed deals on exchange programs, Hao said.