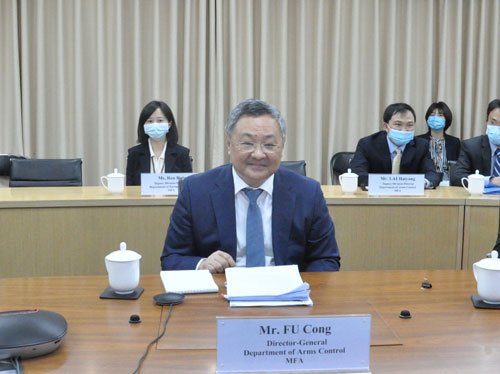 Director-General of the Department of Arms Control of the Chinese Foreign Ministry Fu Cong participates in the first round of China-Netherlands consultation on arms control via video link, October 12, 2020. /Ministry of Foreign Affairs of China
China's disarmament diplomat Fu Cong on Thursday challenged U.S. claims on nuclear strategy transparency and nuclear arsenal, as Washington has repeatedly called for China to join the so-called trilateral negotiations with Russia.
In terms of strategic calculation and avoiding miscalculation, China's nuclear strategy and intention are more transparent and predictable, as China pledges no-first-use of nuclear weapons and never use or threaten to employ nuclear weapons against non-nuclear-weapon states, said Fu, head of the arms control department of China's foreign ministry, in an interview with Russian newspaper Kommersant.
Fu asserted that China pursues a self-defensive nuclear strategy, serving the purposes of safeguarding its national sovereignty and territorial integrity, and China takes nuclear weapons as the "ultimate deterrence," rejecting U.S. allegations of the so-called China threat.
Out of safety and security concerns, China's modernizing its nuclear capacity, and we hope the international society could take an unbiased view on China's effort, Fu said.
In fact nuclear forces of other nuclear powers are also undergoing modernization, and the U.S. even plans to inject $1.2 trillion to upgrade its nuclear arsenal, he pointed out.
The U.S., with about 6,000 nuclear warheads, is expanding the scope of nuclear deterrence, Fu said, adding that this doctrine poses real threat to other countries.
Fu reiterated that China will not participate in trilateral arms control negotiations with the U.S. and Russia to extend the New START, a flagship nuclear arms treaty between the two countries that is due to expire next February.
Pressuring China to join such negotiations is "unfair, unreasonable and unfeasible," Fu said, given that the U.S. nuclear arsenal is about 20 times the size of China's.
China would "be happy to" participate in such talks with the U.S. and Russia, but only if the U.S. agrees to reduce its nuclear arsenal to China's level, Fu said. "But we know that's not going to happen in foreseeable future."
For the U.S., urging China to engage in trilateral negotiations is "nothing but a ploy to divert attention" and an excuse for the U.S. to walk away from the New START extension.
Fu maintained that China is not shying away from the international nuclear disarmament process and it actually plays an active role in pushing forward international disarmament within the framework of the United Nations.