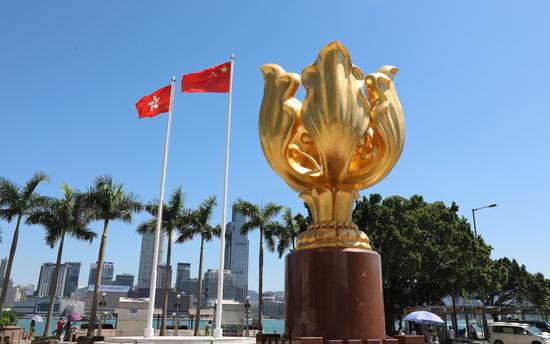 Photo taken on Aug. 5, 2019 shows China's national flag and the flag of the Hong Kong Special Administrative Region (SAR) on the Golden Bauhinia Square in Hong Kong, south China. (Xinhua/Wu Xiaochu)
The Liaison Office of the Central People's Government in the Hong Kong Special Administrative Region (HKSAR) warned Tuesday that any wanton acts to instigate violent protests during the upcoming holiday on the pretext of an illegal boundary-crossing case will not be condoned under the national security law in Hong Kong.
The illegal boundary-crossing of 12 Hong Kong residents are being dealt with according to the law and the liaison office firmly supports the HKSAR government and the police in enforcing the law resolutely to ensure peaceful Mid-Autumn Festival and National Day holiday, a spokesperson of the liaison office said in a statement.
The 12 suspects are in criminal detention and the mainland authorities have made a thorough investigation into their illegal activities, the spokesperson said.
However, some ill-intentioned people in Hong Kong spread rumors to cover up the crimes, requested for the release of the suspects, and incited others to stage illegal gatherings on Thursday. Some radicals even claimed to purchase guns and bows, and plot terrorist attacks on police officers, the spokesperson said.
The acts of instigating subversion of the state power and attacks on law enforcement agencies and officers are blatant challenges to the national security law and other local laws, the spokesperson said.
The spokesperson expressed firm support for the Hong Kong police who vowed that they would resolutely enforce the law and would never tolerate any illegal acts so as to safeguard public security and order.
After the national security law took effect in late June, Hong Kong returned to peace and stability from chaos, the spokesperson said, calling on the Hong Kong residents to see clearly the ill intention of a small number of troublemakers and make joint efforts to protect Hong Kong's prosperity and stability.