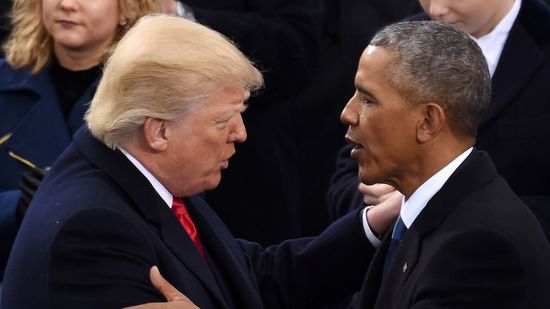 U.S. President Donald Trump (L) is greeted by former President Barack Obama after delivering his inaugural address during the presidential inauguration ceremony at the U.S. Capitol in Washington, DC, U.S., January 20, 2017. (Photo/Xinhua)
Former U.S. President Barack Obama is not combative, in the literal sense of the word. But where he lacks in the aggressive nature of his successor, Donald Trump, Obama's oratorical skills stand him in good stead on the political platform.
After recently throwing his weight behind the presumptive Democratic Party nominee Joe Biden, Obama was at it again on Saturday when he described the White House's response to coronavirus as "an absolute chaotic disaster."
Expressing his sentiments during a private call on Friday with former staff of his administration, Obama said that, "What we're fighting against is these long-term trends in which being selfish, being tribal, being divided, and seeing others as an enemy – that has become a stronger impulse in American life."
His call to members of the Obama Alumni Association was basically a campaign message in support of Biden. The former president underscored the need for strong global leadership during a crisis like the COVID-19, something that he indicated was sorely lacking at the moment.
This may be seen as a confirmation of his recent endorsement of Biden, at a time when the leading Democrat is still faced with allegations of sexual harassment by former Senate staffer Tara Reade.
Although Obama did not mention Trump by name, his sharp criticism was obviously directed at the president's way of doing things: "It would have been bad even with the best of governments. It has been an absolute chaotic disaster when that mindset – of 'what's in it for me' and 'to heck with everybody else' – when that mindset is operationalized in our government."
Indeed, Obama found an ideal bipartisan issue to rally the American nation towards the Democratic Party candidacy in November.
There can be no denying that Trump has totally messed up America with his mishandling of the coronavirus war. He has failed his country when astute leadership skills were needed most.
Trump's recent actions must have provoked Obama's thinly veiled censure of the president's actions.
On April 22, Trump sacked Dr. Rick Bright as both the director of the U.S. Biomedical Advanced Research and Development Authority and deputy assistant secretary for Preparedness and Response, after the two differed on the use of the malaria drug hydroxychloroquine as a treatment for COVID-19.
In an interview on Wednesday with the New York Times, Bright said that he was dismissed after he insisted on vigorous testing of hydroxychloroquine, and accused the Trump administration of putting "politics and cronyism ahead of science."
Obama would also have found the courage to make such a glaring strike at the administration after a Trump personal valet, a White House staffer, tested positive for coronavirus.
White House spokesperson Katie Miller also tested positive for COVID-19 on Friday. Reports on May 10 also revealed three top U.S. top officials also serving on Trump's coronavirus task force have entered self-quarantine after possible exposure in the White House.
Therefore, Trump has no excuse for his flippancy in the fight against COVID-19. He has failed to take the opportunity to redeem his image as one who is more concerned with his re-election amid the chaos at hand.
Even if Americans go back to work and business in the short term, Trump's touted successes will not be achieved before the elections in any way that can make an impression before the elections.
On the contrary, escalation or non-alleviation of the coronavirus crisis might end up in an indecisive election, fomenting more chaos in America's governance.
While Trump is throwing caution to the winds, UK Prime Minister Boris Johnson has just cautioned Britons that his country is about to enter the most dangerous phase of the fight against the pandemic, as the government unveils a gradual "roadmap" out of the lockdown. Having been hospitalized in intensive care with acute COVID-19 in April, Johnson has the wisdom of hindsight.
So, would Obama have done things differently? During his presidency, Obama recorded several achievements, which show his ability to bring the country together at critical times.
For instance, he managed to put an end to the unnecessary Iraq war in 2011; rescued the U.S. from the Great Recession, leading to a decrease of unemployment from 10 percent to 4.7 percent in six years; and ordered for the capture and killing of the world's deadliest terrorist, Osama Bin Laden, in May 2011.
In 2009, Obama won the Nobel Peace Prize "for his extraordinary efforts to strengthen international diplomacy and cooperation between peoples." Unlike Trump, Obama managed to mobilize adequate buy-in, both in the U.S. and internationally, for much of his agenda.
However, it remains to be seen whether his magic will translate to the Democratic candidate in the forthcoming elections. But whichever way it goes, Obama has raised the red flag – the U.S. needs to take a different direction from the dangerous path it is following at the moment.
Editor's note: The author, Stephen Ndegwa, is a Nairobi-based communications consultant and international affairs columnist. The article reflects the author's opinions, and not necessarily the views of CGTN.