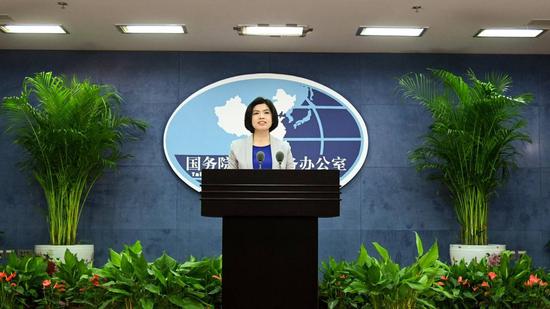 Zhu Fenglian, a spokesperson for the Taiwan Affairs Office of the State Council of China. /Xinhua
Attempts by certain Taiwan organizations to plot "Taiwan Independence" through the so-called referendum for constitutional revision are doomed to end in impasse and ultimately fail, said Zhu Fenglian, spokesperson for the Taiwan Affairs Office of the State Council, on Tuesday at a regular media conference.
Such conspiracy is counter-current to the historical trend and a path that will only lead to a dead end, she said.
The remarks came following an announcement by Taiwan New Constitution Foundation on Sunday that two referendum proposals regarding a constitutional revision had passed the first stage of required signature gatherings and would be sent this week to Taiwan's Central Election Commission for verification.
The spokesperson said these separatist acts pose serious threat to peace and stability of cross-Strait relations, severely compromising China's core national interests and the rights and interests of people from both sides.
"It will only push Taiwan toward an extremely dangerous abyss and bring disasters to Taiwan compatriots," said the mainland's representative in Taiwan region.
Zhu said China is determined and fully confident in defeating any sort plot for "Taiwan independence."
"We will never allow anyone, any organization, any political party, at any time, in any form, to alienate any part of Chinese territory from China."