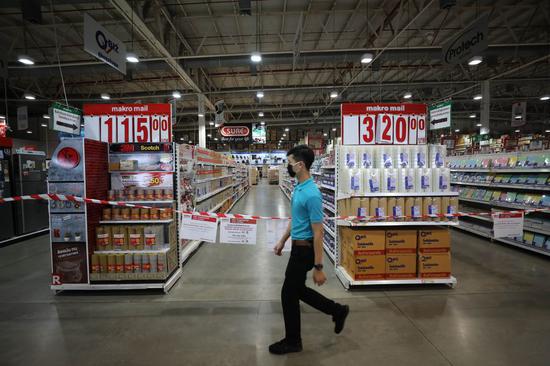 A worker walks past the closed area where the home appliance stock has been transferred to on-line sale to lower COVID-19 infection risk at a supermarket in Bangkok, Thailand, March 25, 2020. (Xinhua/Zhang Keren)
Special: Battle Against Novel Coronavirus
Thai Prime Minister Prayut Chan-o-cha announced on Wednesday an emergency decree, effective from March 26 until April 30, which provides stringent measures for the authorities to take in bid to contain the COVID-19 pandemic throughout the country.
Under emergency rule, the Bangkok and provincial governors may declare certain areas as well as border passes deemed at risk of COVID-19 infection off-limits to the people.
No gatherings are allowed anywhere under emergency rule until the end of April to protect people from possibilities of getting infected.
Varied public service spots including stadiums, sport facilities, playgrounds, cinemas, bars and entertainment venues nationwide were earlier ordered closed to contain the COVID-19 spread.
Elderly persons, aged over 70 years, and children under five years, are prohibited from leaving home except for medical treatment purposes.
Under emergency rule, those who might be found releasing or sharing fake news or distorted information might possibly be subject to penalties under the Computer Crime Act.