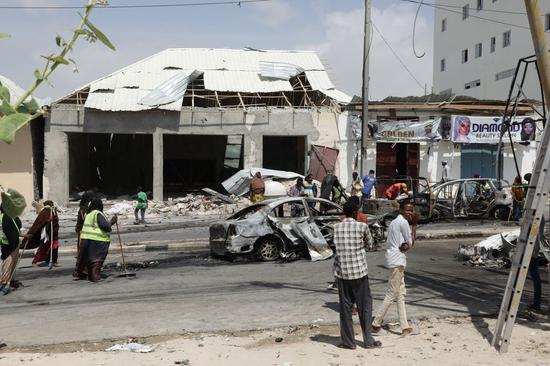 People are seen at the scene of a massive car bomb explosion in Mogadishu, capital of Somalia, on Jan. 8, 2020. (Xinhua/Hassan Bashi)
At least five civilians were killed and 11 others injured in a car bomb explosion at a busy checkpoint in the Somali capital, Mogadishu, on Wednesday morning, a government official confirmed.
Government spokesman Ismael Mukhtar Omar said an al-Shabab suicide bomber drove a car laden with explosives into the Sayidka junction, a checkpoint where vehicles line up for security search, during rush hour.
Al-Shabab, an al-Qaida-allied militant group, claimed responsibility for the latest attack, saying it targeted the heavily guarded checkpoint at the entrance of the presidential palace.
Security officials said the suicide bomber was trying to pass through the checkpoint but detonated the explosive device when he was unable to do so.
Witnesses said three members of a family were among those killed in the attack, the first one in 2020.
Lawmakers also use the same checkpoint to enter the nearby parliament building and the presidential palace.