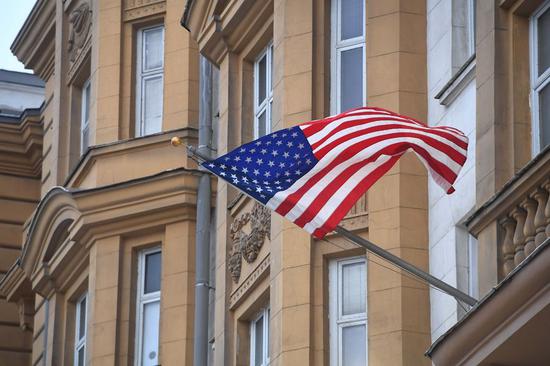 Photo taken on Dec. 30, 2016 shows the U.S. national flag on the U.S. Embassy building in Moscow, Russia. (Xinhua/Sputnik)
An official poll on Monday showed that 85 percent of Russians view the current Russian-U.S. relations in a negative way.
The survey was conducted by the government-owned Russian Public Opinion Research Center in October among 1,600 respondents over 18 years old via telephone interviews.
The results show that 52 percent of the respondents regard Russian-U.S. relations as tense, 20 percent as cool and 13 percent as hostile.
Almost half of the respondents want ties with the United States to strengthen on a wide range of areas.
Those who believe that relations between the two countries will remain unchanged in the next few years account for 47 percent, up from 37 percent a year ago. Those who believe the ties will improve took up 19 percent, down from 27 percent in last year.