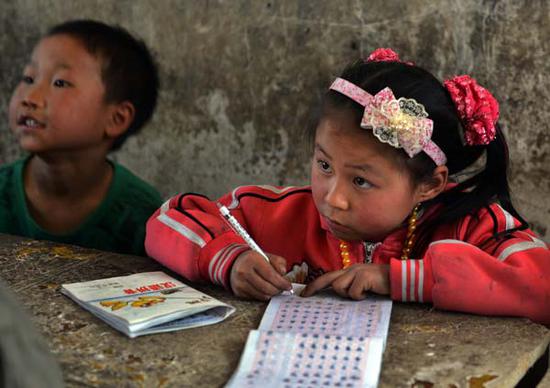 A girl attends a class at a rural school in Bijie, Guizhou province. [Photo by Peng Nian/For China Daily]
Peng Liyuan, wife of President Xi Jinping, said the remarkable achievements that China has made in girls' and women's education over the past 70 years have strongly pushed forward the development and progress of Chinese society.
Peng, also special envoy of the United Nations Educational, Scientific and Cultural Organization for the promotion of girls' and women's education, made the remark on Friday in a congratulatory message to an award ceremony for the Prize for Girls' and Women's Education of UNESCO held in Paris, France.
In the message, Peng extended warm congratulations to a nongovernmental education institution in Costa Rica and a local education authority in Spain that were awarded the prize.
Letting every girl and woman have access to fair and high-quality education is an important part of realizing the UN 2030 sustainable development agenda, she said.
Peng highlighted the increasingly important role of the prize in promoting and sharing the excellent experience in girls' and women's education gained by different countries across the world.
The inspirational stories and experiences from pioneers and practitioners in this area will surely inspire more people to promote girls' and women's education as well as strive to change their destiny, she said.
Peng also said that she stands ready to work with participants to help more girls and women to realize their dreams and create a better future.
The UNESCO Prize for Girls' and Women's Education, initiated and funded by the Chinese government, honors outstanding and innovative contributions made by individuals, institutions and organizations to advance girls' and women's education.