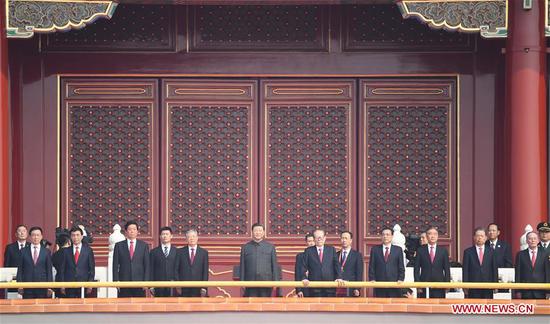 Chinese President Xi Jinping, also general secretary of the Communist Party of China (CPC) Central Committee and chairman of the Central Military Commission, is on the Tian'anmen Rostrum during the celebrations for the 70th anniversary of the founding of the People's Republic of China in Beijing, capital of China, Oct. 1, 2019. (Xinhua/Yan Yan)
Special: 70th birthday of PRChina
Chinese President Xi Jinping ascended the Tian'anmen Rostrum at the heart of Beijing on Tuesday morning to attend a grand gathering to celebrate the 70th founding anniversary of the People's Republic of China (PRC).
Xi is the first top Chinese leader born after 1949 when the PRC was founded.
On Oct. 1, 1949, Mao Zedong declared the founding of the PRC on the Tian'anmen Rostrum.