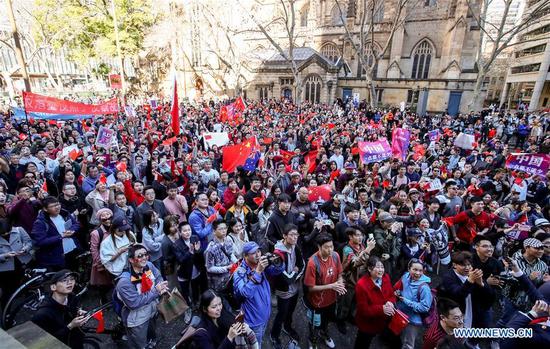 People take part in the Stop Riots in Hong Kong rally in Sydney, Australia, August 17, 2019. (Photo/Xinhua)
The focus of China's 1.4 billion citizens regarding the current situation in Hong Kong Special Administrative Region (SAR) is to regulate violence and restore order.
"Their biggest wish is to maintain HKSAR's prosperity and stability. Can the common will of 1.4 billion Chinese people be organized and manipulated?" Foreign Ministry spokesperson Geng Shuang said on Thursday when asked if patriotic rallies overseas were encouraged by Chinese foreign agencies.
Overseas Chinese, including overseas students, justly express their opposition and indignation to any action that attempts to split the country, Geng said.
Overseas Chinese should rationally express patriotism and pay attention to their own safety, Geng noted, adding that China hopes that relevant countries will respect and understand the legitimate activities of overseas citizens and protect their legitimate rights and interests.