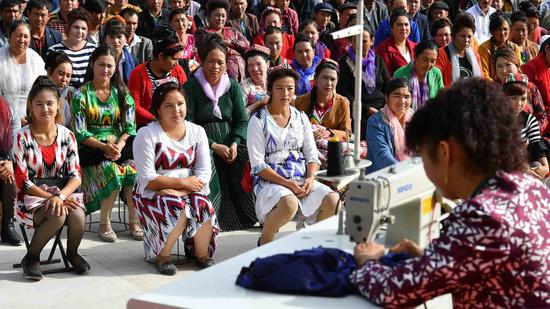 Undated photo features women in a vocational center in Xinjiang. /CGTN Photo
China's embassy to Turkey said on Sunday that the vocational education program in China's remote northwestern Xinjiang Uygur Autonomous Region is part of the government efforts to combat terrorism and extremism and dismissed as "false" the claims that it had set up a re-education labor camp to purge the area's ethnic minority.
The vocational education center is teaching people living in remote areas about the country's common language and law and is aimed at preventing the spread of terrorism and extremism, the embassy said in a statement.
The Chinese embassy's response followed the Turkish Foreign Ministry's allegation of the death of a Uygur man in a vocational center.
On Saturday, Turkish Foreign Ministry spokesman Hami Aksoy said the man, named Abdurehim Heyit, died during his detention and cast the vocational programs as "torture and political brainwashing camps and prisons."
The Chinese embassy in Ankara responded quickly saying both accusations were false and urged the Turkish government to retract them.
"Allegations that the Chinese government is attempting to 'eliminate' the ethnic, religious and cultural identity of Uygurs and other Muslims are completely groundless," it said.
On Sunday, the embassy reiterated that the vocational programs strictly abide by China's constitution and law in protecting human rights, and that China respects citizens' freedom of religious belief and protects their normal religious activities.
It also said 57-year-old Abdurehim Heyit is alive and in good health. He was an actor working for a troupe in Xinjiang and later arrested for endangering national security, according to the embassy's statement.