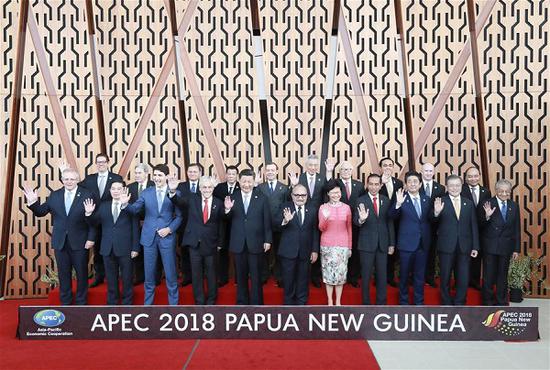 Chinese President Xi Jinping (L5, front) and other leaders and representatives from APEC member economies pose for a group photo ahead of a dialogue between APEC leaders and representatives from the APEC Business Advisory Council in Port Moresby, Papua New Guinea, November 17, 2018. (Photo/Xinhua)
Special: Xi Attends APEC Meeting, Visits PNG, Brunei and Philippines
Chinese President Xi Jinping said on Saturday that the world is facing new opportunities, challenges and risks amid profound changes in the global economy, stressing that measures must be taken to improve global governance.
In a keynote speech at the Asia-Pacific Economic Cooperation (APEC) CEO Summit in Papua New Guinea's capital Port Moresby, Xi put forward five proposals aimed at charting the right direction of the world economy and creating a better future for all members:
I. Stay open and expand the scope of development.
II. Pursue development in a way that delivers benefits to the people.
III. Take an inclusive approach and promote interaction and cooperation.
IV. Pursue innovation to tap new sources of growth.
V. Take a rule-based approach to improve global governance.
On openness and cooperation
The Chinese president hailed openness and cooperation between APEC economies, calling for a continued commitment to openness.
Xi said the world is undergoing major transformations and facing many challenges and that mankind must decide between cooperation and confrontation.
Describing economic globalization as a "must-take path" for mankind, he noted that every nation has become a "key, integral part" of the interconnected global value chain, industrial chain and supply chain, forming communities of common interests and shared future."
"History has proven that only when we are committed to openness and cooperation, can we bring about more opportunities and greater room for development," he added.
On the other hand, Xi noted that diversity in the world should lead to cooperation instead of confrontation, calling on different nations to choose their own development paths.
"We should reject arrogance and prejudice, be respectful of and inclusive toward others, and embrace the diversity of our world," he said.
'Say no to protectionism'
Global growth is under the shadow of protectionism and unilateralism and we should take an inclusive approach and encourage interaction, Xi added.
"If we set up barriers and cut the close connection between different nations, it is contrary to the economic rules and historical trends, and is inconsistent with people's common aspirations," said Xi, who criticized the approach as a "short-sighted choice" that leads nowhere.
Problems in the world cannot be solved through protectionism and unilateralism, he stressed.