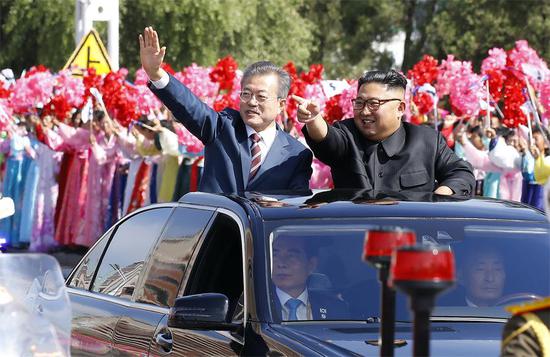 During a motorcade procession, Republic of Korea President Moon Jae-in and Democratic People's Republic of Korea top leader Kim Jong-un greet a welcoming crowd in Pyongyang on Tuesday. (Photo/Xinhua)
The Democratic People's Republic of Korea's top leader Kim Jong-un said he hopes to help bring about a "big outcome" with Republic of Korea President Moon Jae-in, as the two leaders held their third summit this year in Pyongyang to rekindle stalled denuclearization diplomacy.
The two began their first round of official talks on Tuesday afternoon. Moon and Kim are expected to have a second round of talks on Wednesday and jointly announce the results of their two-day summit at a news conference.
Kim greeted Moon on Tuesday morning with an embrace as the ROK leader landed in the DPRK's capital to revive momentum in talks over denuclearization of the peninsula and advance the prospect of formally ending the Korean War.
The two leaders met in April and May at the border village of Panmunjom, but this latest summit marks the first visit by an ROK leader to Pyongyang in 11 years.
The DPRK's Korean Central News Agency said on Tuesday that the summit aims to implement the Panmunjom Declaration issued after Moon and Kim's first summit.
Before leaving for Pyongyang, Moon said he planned to have frank talks with Kim in order to bring "irreversible, permanent peace to the Korean Peninsula".
"This summit would be very meaningful if it yielded a resumption of DPRK-U.S. talks," Moon said on Tuesday morning, adding "it's very important for us to meet frequently, and we are turning to a phase where we can meet anytime we want".
In Beijing, Foreign Ministry spokesman Geng Shuang said on Tuesday that China welcomed the two sides' move to implement the Panmunjom Declaration and promote reconciliation and cooperation.
He said Beijing will continuously support Pyongyang and Seoul to improve relations and make contributions to long-term stability on the peninsula and in Northeast Asia.
Piao Jianyi, a researcher at the National Institute of International Strategy under Chinese Academy of Social Sciences, said the timing of the summit is significant. Moon is expected to mediate between Pyongyang and Washington as their negotiations over the denuclearization of the peninsula have recently stalled.
Piao noted that the DPRK has taken steps including dismantling its nuclear and rocket engine testing sites.
But the U.S. insisted that Pyongyang must take more disarmament steps before receiving outside concessions. Piao said it is key for both sides to uphold the goal of denuclearization and propose concrete plans acceptable to both through more dialogue.
Pyongyang's Rodong Sinmun newspaper said in an editorial that the U.S. was responsible for the lack of progress in denuclearization talks.
It said Washington is "stubbornly insisting" Pyongyang first dismantle its nuclear weapons while failing to show its will to build confidence, "including the declaration of the end of war which it had already pledged".
U.S.-DPRK talks stalled after U.S. President Donald Trump recently called off a scheduled trip to Pyongyang by U.S. Secretary of State Mike Pompeo, citing what he called a lack of progress in the DPRK's denuclearization process. Trump has indicated that he may be open to holding another summit to resuscitate talks with Kim.