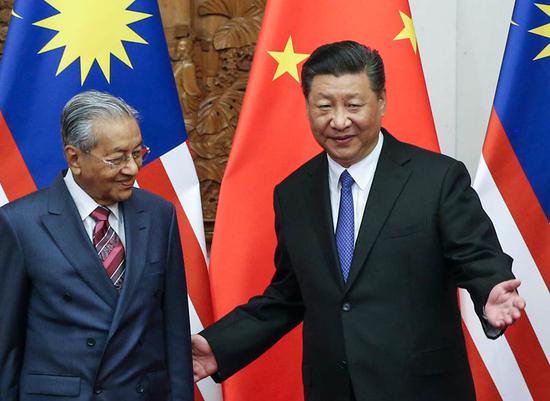 President Xi Jinping greets Malaysian Prime Minister Mahathir Mohamad at the Great Hall of the People in Beijing on Monday. During his talks with Mahathir, Xi said the two countries should be dedicated to raising the representation of developing countries in global affairs. WU ZHIYI / CHINA DAILY
Special: Belt and Road Five Years
Nations' leaders meet to discuss boosting relations
China and Malaysia should make jointly building the Belt and Road a main theme when they advance their pragmatic cooperation in the new era, President Xi Jinping said on Monday.
Xi made the remark while meeting with visiting Malaysian Prime Minister Mahathir Mohamad at the Great Hall of the People in Beijing.
Hailing Malaysia as an important country along the ancient Maritime Silk Road, Xi praised it as one of the countries that supported the Belt and Road Initiative early on.
The two countries should boost the connection of their development strategies and enhance cooperation on industry and innovation, Xi said. He called on the two countries to cultivate new areas and explore new fields for cooperation and to expand their win-win cooperation.
The two sides should properly handle existing problems using the principle of mutual respect and friendly coordination, Xi said.
Xi said he appreciated the great attention the Malaysian government and the prime minister have paid to developing China-Malaysia ties.
Xi spoke highly of Mahathir's remarks deeming China as providing a development opportunity and his support for the China-proposed Belt and Road Initiative.
The two countries should firmly oppose unilateralism and trade protectionism, Xi said, adding they should be dedicated to raising the representation of developing countries in global affairs.
Mahathir said his visit to China is a significant move for the new Malaysian government, adding that the country will stick to its friendly policy toward China.
"Now we are here to reassure the Chinese government and Chinese people that we have not changed our relationship even though the government is new," Mahathir said.
China is Malaysia's largest trading partner, and the country has never colonized Malaysia, he said, adding that China's development is not a threat to his country.
The prime minister said that Malaysia admires China's miracle of independent development and great achievements in industry and commerce. Malaysia would like to learn from China's successful experience of development, boost innovation and achieve greater development for the country, he said.
The Belt and Road Initiative, put forward by Xi, aims to enhance exchanges and cooperation among the countries, Mahathir said, adding that the initiative will benefit all countries of the region.
The prime minister said that Malaysia would like to participate in jointly building the Belt and Road, which will bring development and prosperity to the region.
"We still believe in friendly relations with all countries, particularly with China, which is so significant in terms of the influence over Malaysia and its development," he added.