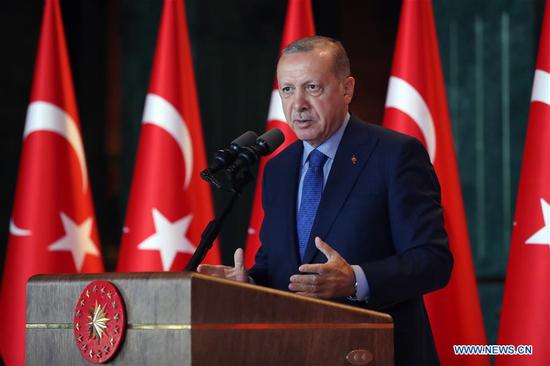 Turkish President Recep Tayyip Erdogan delivers a speech during Turkish ambassadors' conference at Presidential Palace in Ankara, Turkey, on Aug. 13, 2018. (Xinhua/Turkish Presidential Palace)
Turkish President Recep Tayyip Erdogan has denounced the Lira crisis as a "plot against Turkey," warning that his country will forge new alliances and markets in response to a bitter rift with long-time ally the United States, which has caused the Turkish currency to hit record lows.
"ECONOMIC WAR"
"The fluctuation in the Turkish Lira is a plot against Turkey, but the Turkish people will not give in," the Turkish president defiantly said on Sunday in a live speech in northwestern province of Trabzon, sharply criticizing the United States of waging an "economic war" against his country.
Relations between the United States and Turkey had plunged to their lowest in decades following unprecedented sanctions declared by the United States on Turkey over U.S. pastor Andrew Brunson, who faces terrorism charges and up to 35 years in prison if found guilty.
Turkey scrambled a delegation to Washington last week to stave off the crisis but no deal has been reached.
U.S. State Department spokesperson Heather Nauert said on Thursday that although the two sides "had wide-ranging meetings at the State Department and with other departments here in Washington," the U.S. side "would define progress as Pastor Brunson being brought home."
Erdogan vowed also in Trabzon there would be no easing of the law in Brunson's case, said that the United States tried to "give us ultimatums and deadlines to free the priest. We have not made concessions on justice so far, and we will never make any."
The Turkish Lira has slide rapidly since the United States slapped sanctions on two Turkish ministers, and extended its slide Monday morning to a new record low, at over 6.8 to U.S. dollar at the opening of European and Turkish markets.
"I here declare that we have seen your plot and we are challenging it," said Erdogan. "There is no economic reason for the present (currency plunge) situation. This a plot to force Turkey to surrender in every field from finance to politics, to make Turkey and its people to kneel down."
The Turkish strongman also pointed out that Turkey was considering other markets and political alternatives to its "strategic partnership" with Washington.
"If you come at us with your dollars we will try to find other ways to manage our affairs. We will respond to those, who declared trade war on the entire world and included Turkey in it, by steering towards new alliances, new markets," he said.
In addition, Erdogan also threatened the United States to "start looking for new friend and allies," if the row isn't resolved soon.
"Washington must give up the misguided notion that our relationship can be asymmetrical and come to terms with the fact that Turkey has alternatives," wrote the Turkish strongman in the New York Times on Saturday.
"You (the United States) are trying to sacrifice our strategic relations on the sole basis of a priest," said Erdogan Sunday, warning furthermore that Turkey will eventually say "farewell" to its American ally.
ACTION PLAN
Turkey has drafted an economic action plan and has started implementing it "as of tonight" to ease investor concerns, Treasury and Finance Minister Berat Albayrak tweeted Sunday night.
Albayrak described the Lira's weakness as "an attack," echoing President Erdogan, who is his father-in-law.
Albayrak also announced a plan has been prepared for banks and the real economy, including small to mid-sized businesses which are most affected by the foreign exchange fluctuations.
Albayrak dismissed any suggestions that Turkey might intervene in dollar-denominated bank accounts, saying any seizure or conversion of those deposits into Lira was out of the question.
The Turkish central bank announced Monday morning for its part a list of measures in which banks will be provided all the liquidity they need in light of the currency plunge, "to support the effective functioning of financial markets."
Erdogan rejected speculation that Turkey would seek a rescue package from the International Monetary Found.
TRADE SANCTIONS
U.S. President Donald Trump announced a punitive doubling of tariff rates on steel and aluminum products from Turkey to 50 percent and 20 percent respectively.
"Our relations with Turkey are not good at this time!" Trump tweeted.
The United States is the biggest destination for Turkish steel exports with 11 percent of the Turkish export volume. And as Turkey is heavily dependent for its energy imports, consumers will suffer from imminent price hikes, said analysts.
On Friday, Erdogan called on its citizens to convert their hard currency and gold into lira to prop up the plunging currency with a "domestic and national stance."
The Lira has lost more that 45 percent of its value against dollar this year not only because of the latest diplomatic rift, bus also due to the Turkish economy showing signs of vulnerability after years of continued growth.
The falling Lira would hit Turkish companies that have to repay foreign currency debt estimated at more than 200 billion U.S. dollars.
Turkey has weathered several tough economic crises over the decades. Erdogan himself was elected prime minister in 2003 on the back of a major crisis two years earlier, but has traditionally always had Washington's staunch support.
Turkey and the United States have disagreed on a number of issues in recent years, including the war in Syria and a U.S. refusal to extradite Fethullah Gulen, a cleric Erdogan claims is behind the botched attempt to unseat him.
The Trump administration has imposed sanctions against several countries in recent months, including Turkey, Iran and Russia.
Washington's hostility against Ankara has fueled speculations that it would further push Turkey towards Russia. The two countries already cooperate regarding Syria and have established close energy and trade ties.
Russian Foreign Minister Sergei Lavrov is to hold talks on Monday in Ankara with his Turkish counterpart Mevlut Cavusoglu, focusing on bilateral ties and the Syrian crisis in the midst of escalating tensions between Ankara and Washington.