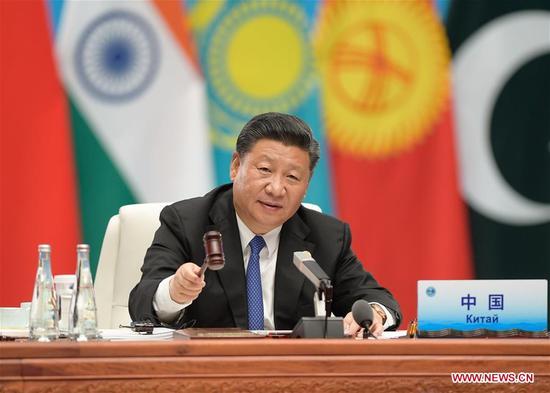 Chinese President Xi Jinping chairs the 18th Meeting of the Council of Heads of Member States of the Shanghai Cooperation Organization (SCO) in Qingdao, east China's Shandong Province, June 10, 2018. (Xinhua Photo)
Special: SCO Qingdao Summit
Chinese President Xi Jinping hailed the 18th Shanghai Cooperation Organization (SCO) summit as a success and expressed his gratitude to the working staff.
The SCO summit was held on June 9 and 10 in Qingdao, a coastal city in east China's Shandong Province.
President Xi praised Shandong Province, especially Qingdao City, for its contribution to the summit.
He stressed that the summit will bring new opportunities for Shandong Province and expressed hope that authorities can learn from the useful lessons, keep pioneering and innovative, and take all the work to a new level.
It was the first SCO summit since its expansion when India and Pakistan were accepted as full members in June 2017. Heads of state or government from 12 countries, and principals from 10 international organizations or institutions gathered together in the coastal city of Qingdao.
The summit witnessed the signing of 23 cooperative documents in diverse fields and lots of agreements reached, which makes it the most fruitful summit since the organization was established 17 years ago.