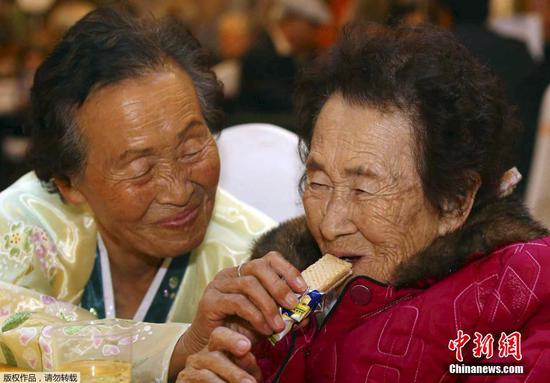 Kim Ri Nam, 83, (left), who lives in DPRK, gives a cookie to her South Korean older sister, Kim Yu-nam, 89, during the reunion of separated families held at DPRK's Diamond Mountain resort on October 24, 2015. (Photo/Agencies)
The Democratic People's Republic of Korea (DPRK) and the Republic of Korea (ROK) on Friday launched Red Cross talks on humanitarian issues, including the reunion of families separated by the 1950-1953 Korean War.
The two sides have agreed to discuss the reunion of separated families and "proceed with reunion programs" around August 15, the day marking the 73rd anniversary of the Korean Peninsula's liberation from the 1910-1945 Japanese colonial rule, according to the Panmunjom Declaration signed by DPRK leader Kim Jong Un and ROK President Moon Jae-in at their first summit on April 27.
If the reunion is held as planned, it will be the first such event since October 2015.
Delegations from the two sides began the talks at 10 a.m. local time (0100 GMT) as scheduled at a hotel in the DPRK's scenic resort Mountain Kumgang. The ROK delegation went to the hotel along a land route in the eastern region. The plenary session lasted for 45 minutes.
The delegations were expected to discuss the examination on whether all the members of separated families are alive, exchange of letters, and visits by the families to their hometowns across the border.
Other discussions would be ways to fundamentally resolve the humanitarian issues of people across the two Koreas.
'Barometer' of DPRK-ROK ties
The reunion of war-separated families is viewed as a "barometer" of DPRK-ROK relations. Since 2000, the two sides held 20 rounds of face-to-face reunion events.
Such events were held every year between 2000 and 2007, when ROK Presidents Kim Dae-jung and Roh Moo-hyun were in office. The two liberal leaders implemented the Sunshine Policy, favoring greater engagement with Pyongyang.
In addition, video-based reunions were held on seven occasions from 2005 to 2007.
However, inter-Korean ties deteriorated after conservative ROK President Lee Myung-bak took power in 2008. Frequent missile and nuclear tests by the DPRK were blamed to worsen the situation. Tensions further escalated in 2016 and 2017 as Pyongyang accelerated its weapons programs.
As a result, only four rounds of family reunions have been held since 2008, with the latest event in October 2015.