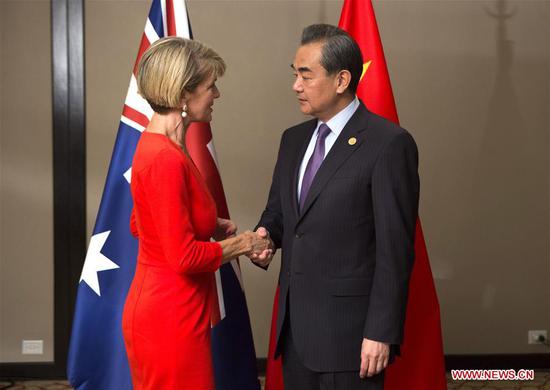 Chinese State Councilor and Foreign Minister Wang Yi (R) meets with Australian Foreign Minister Julie Bishop at her request in Buenos Aires, Argentina, May 21, 2018, on the sidelines of the G20 foreign ministers' meeting. (Xinhua/Martin Zabala)
Australia should remove its "colored glasses" when looking at China's development, Chinese State Councilor and Foreign Minister Wang Yi said when meeting with his Australian counterpart Julie Bishop earlier this week.
Bishop admitted that negative reports on China by Australian media have affected bilateral relations. He stressed that those reports do not reflect the Australian government's stance.
When reporting on the Australian parliament's attempt to amend foreign influence laws, Australian media misidentified it as a cause for the anger of the Chinese government.
What they have either intentionally or unintentionally left out is the fact that China was infuriated by those remarks of Australian politicians who had singled out China as the reason for the amendment, without offering solid proof of any Chinese government interference in Australian politics.
By repeating such practices, some Australian media and some China commentators tried to sell allegations as facts.
Some Australian media are known for their "negative reports on China," as outlined by Bishop. The latest reports by major Australia newspapers on a speech on China by Reserve Bank of Australia Governor Philip Lowe offer a classic case study of how colored glasses have tinted a balanced speech, making it a criticism of China.
While Lowe dedicated most of his speech to the importance of the Chinese economy to Australia and expressed appreciation of what the Chinese government has done to address the risks of its financial system, Australian media have invariably reported the speech from a negative perspective, focusing mainly on China's financial system risks.
In his speech, Lowe said Australia's trade with China has expanded rapidly over the past decade, to the point where China is now Australia's largest trading partner.
China accounts for nearly one third of Australia's exports and one-fifth of Australia's imports. A new trend of bilateral trade relations is that Australia's service exports to China, particularly tourism and education, have grown at an average rate of 15 percent, greater than those to the United States and Britain combined.
Last year, 1.4 million Chinese visited Australia, up from 400,000 a decade ago. Currently, there are around 200,000 Chinese students studying in Australia.
Wearing colored glasses for too long, some Australians may find it uncomfortable when they look at China with their naked eyes. However, only by looking at China as it is can Australia bring its relations with China back to the right track and develop a healthy relationship with its largest trading partner.
Wang said China follows a development path that is completely different from that of traditional major countries. China never interferes in the internal affairs of other countries, let alone conducts so-called infiltration of other countries. China's idea is to carry out equal cooperation with all countries, including Australia, to achieve mutual benefit and win-win results.
Wang also said that China attaches importance to China-Australia relations, and is willing to communicate with Australia on how to practically improve bilateral relations.
The Chinese side has a lot of goodwill, and it would benefit Australia to recognize and embrace it.