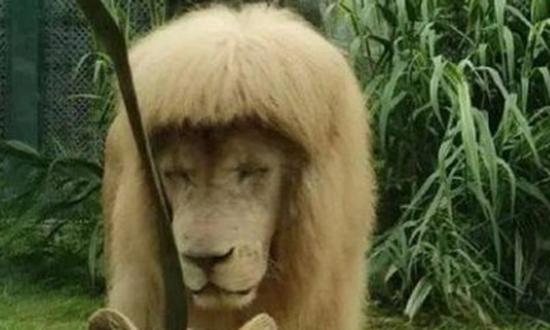 Photo of A hang, the white lion in Guangzhou Zoo with blunt bangs. (Screenshot photo)
A lion with blunt bangs became a hit at Guangzhou Zoo in South China's Guangdong Province on Sunday. The white lion has changed from his previous Afro-hairstyle to sporting a bang. Netizens suspect someone in the zoo gave the lion a haircut to make it look different.
According to Pearl River News, the white lion, whose name is A hang, is a male lion introduced from Hangzhou, in East China's Zhejiang Province, in 2015. During his stay at the new zoo, he looked exactly the same as when he first arrived.
A staff member of the Guangzhou Zoo said that A hang's hair grows naturally and is brushed with the help of the wind. The reason for the blunt bang is that the humidity in Guangzhou is high that his hair was drooping.
Staff stressed that they did not cut his hair as they "were afraid to do so."
"There is no hairdressing program at the zoo, and we dare not cut a lion's hair. You can say that he has 'designed' the hairstyle himself," the staff member explained.
"Strange as it may seem, I want to learn how to style my hair from this lion," one netizen joked. "It can be expected that this lion's hairstyle will become a fashion trend," another said.