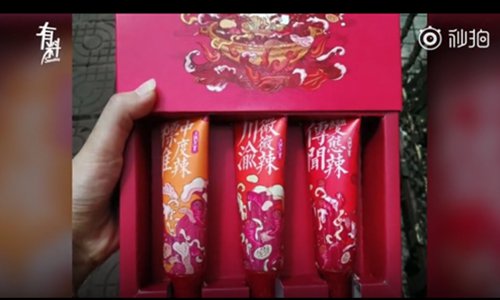 Three spicy toothpastes. (Screenshot photo/The Beijing News)
People who can't get enough spice in their life and want to practice good dental hygiene, can now get a burst of heat first thing in the morning and last thing at night with a new toothpaste that comes in mild, medium and extra hot.
The three-flavor set of toothpastes includes the hot pot sauces from Southwest China's Sichuan Province and Chongqing Municipality, according to Dencare, an online store.
The online ad shows the labels on the three tubes of toothpastes in various degrees of red. The paste itself is yellow, orange and red.
The ad tells customers that if they can stand brushing with the spicy toothpaste, they'll have no problem withstanding the heat of an authentic hot pot from Sichuan, home of the world-renowned spicy cuisine.
While the online promotion says the toothpaste will instantly refresh sleepy users in the morning, it also warns people with poor oral health or those allergic to spicy foods not to use the toothpaste.