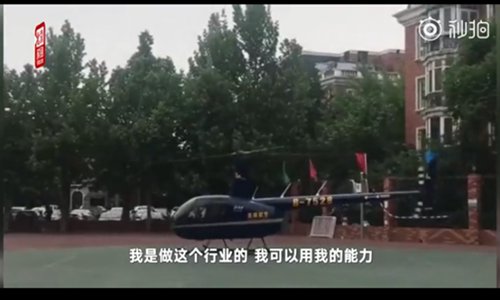 The helicopter lands in the school. (Screenshot photo/Btime.com
At first blush, it seemed like a father of a student at a Beijing public school just wanted his son to get good marks on his science homework, so he arranged for a helicopter to literally drop in.
The parent, surnamed Chen, said it was actually the teachers at Fengdan experimental primary school who invited him to land a helicopter in the schoolyard during the school's science and technology festival. It was also not, he said, a case of showing off his wealth or helping his son to get to school on time, as many netizens claimed on social media.
"I am in the aviation business and I wanted to help the children learn about helicopters, as the science festival included a topic on the principles of aircraft," Chen told Btime.com.
Chen said he had filed a flight plan which was approved by the Beijing Public Security Bureau. Two pilots brought the two-seater copter in for a landing.
An online video shows a uniformed pilot introducing the mechanics of helicopters to students on a schoolyard.