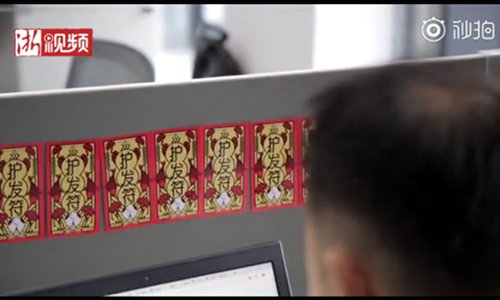 Small stylized posters or blessing paper are hung in the office to protect employees from going bald. (Screenshot photo/Zhejiang Daily)
The owner of an e-commerce company in East China has become subject to a lot of snickering in his office and beyond after giving employees small stylized posters or blessing paper that he believes can protect men from going bald.
The posters have also been strung together and hung like laundry above workers heads in the office in Hangzhou, Zhejiang Province, according to a Sina Weibo video posted by the Zhejiang Daily.
Many of the posters have three simple characters: hu fa fu which can be interpreted as a blessing to the preservation of hair.
The boss, who is middle- aged and thinks baldness is somehow a problem, believes the computer programmers in his company are somehow especially susceptible to losing their hair. The newspaper's video interviewed a number of male employees and all but one have a full head of hair.
The company owner said he sent his employee the posters to "help them overcome mental blocks."
With a wink and a nod some employees featured in the video said they can feel the mysterious powers of the blessing paper hanging over their heads. "Maybe it's protecting my hair," one of programmers said in jest.