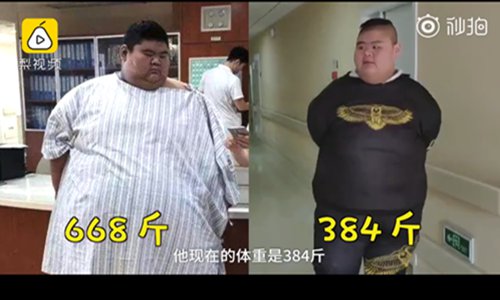 Wang Haonan in East China's Shandong Province is now 192 kilograms, who was 334 kilograms before the surgery. (Screenshot photo/Pear Video)
China's heaviest man has not only lost 142 kilograms since undergoing stomach surgery six months ago, he now stands taller and takes a smaller shoe size.
Wang Haonan, 20, who weighed 334 kilograms before his surgery last July, now weighs 192 kilograms. He also credits a better diet and improved eating habits for his dramatic weight loss.
Wang is two centimeters taller and has dropped four sizes since his surgery, and his skin tone has lightened, said his doctor Liu Shaozhuang, at a press briefing on Tuesday.
"I even lost 3.5 kilograms during the Spring Festival," Wang said as he was paraded before the media at the hospital. "You're probably fatter," the shy 20-year-old told a reporter.
Wang not only credits the surgery for his weight loss. "My experience is to control your appetite and do more exercise. Do not eat a lot and decrease the speed of your chewing."
Netizens congratulated Wang on successful weight reduction and were surprised that losing weight has so many positive side effects. "Becoming thinner means that you can also whiten and grow taller," a netizen commented.
Wang had 80 percent of his stomach removed in July 2018.