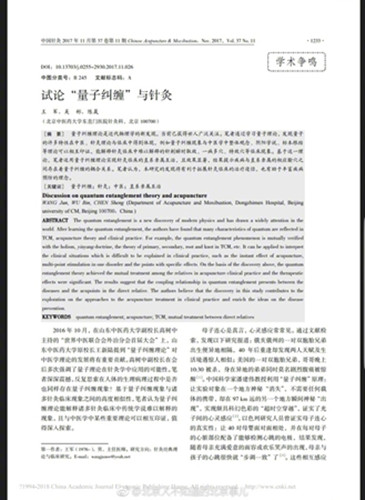 An astonishing medical claim that "inserting a needle into the body of a mother can also relieve the symptom of her kid," is making rounds on China's social media. 
This method of treatment was first revealed in a paper titled "The Relationship between Quantum Entanglement and Acupuncture" written by Wang Jun, an acupuncturist with the Dongzhimen Hospital under the Beijing University of Chinese Medicine, along with two co-authors, and published in the journal Chinese Acupuncture and Moxibustion in November 2017. 
In the paper, the authors conjecture that there is a quantum entanglement between lineal kin, and that acupuncture treatment on one person can also treat his or her lineal kin, such as parents, kids and siblings. 
To test the conjecture, Wang recruited 15 patients and administered acupuncture to their lineal kin. The result showed that "the treatment relieved the symptoms of all patients to some degree."
However, many internet users refused to buy this theory.
"This is 'simpleton entanglement' not quantum entanglement," wrote Weibo user Zhangtingyaunlvshi 4.