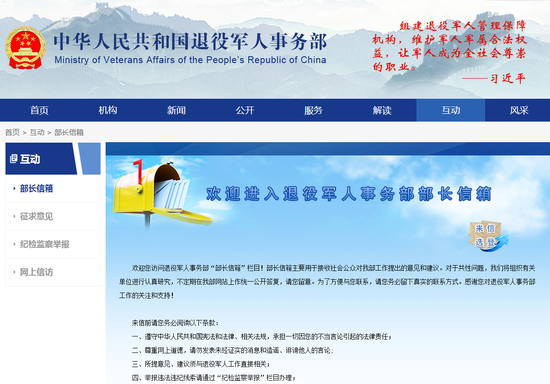 China is determined to protect the interests of veterans with a new online petition system which provides a simple and direct way for them to express their needs, a Chinese military insider said Tuesday.
The system went online Saturday through the website of the Ministry of Veterans Affairs.
Any veteran complaint will be dealt with within 60 days, or 90 days for complicated cases, said a notice on the website.
After real-name registration including national identity card information and phone number, veterans can lodge written complaints directly to the ministry.
The system provides a simple and direct way for veterans to express their interests, Li Daguang, a professor at the National Defense University of the People's Liberation Army in Beijing, told the Global Times on Tuesday.
"In the past, some veterans used to gather in crowds to appeal because of a lack of channels to express their needs," Li said.
The online petition system will also help maintain social stability, Li said.
The system can help veterans solve problems such as their income, employment status and social insurance, according to the website.
"These issues are the most frequently encountered problems for veterans," Li said.
A disciplinary report function and the minister's mailbox are also available on the ministry's website.
Since August, veteran service centers have been established in Beijing sub-districts to provide proximal policy counseling to veterans, an official at a Beijing sub-district, told the Global Times on Tuesday. She refused to be named.
"It's wrong to treat veterans like burdens and the new policies show the government's deep concern about this group," Li said.
Founded on April 16, the Ministry of Veterans Affairs provides policies and regulations for demobilized military personnel, "honoring the dedication and spirit of veterans, and dealing with their retirement, reemployment and vocational training issues," the Xinhua News Agency reported in July.