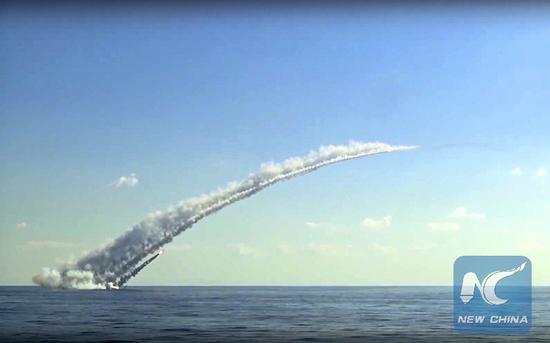 A Russian submarine in the Mediterranean fires a long-range Kalibr cruise missile at the Islamic State group's positions in Syria on Oct. 5, 2017.
Over 25 Russian battleships and 30 warplanes will participate in military drills in the Mediterranean on Sept. 1-8, the Russian Defense Ministry said Thursday, after Western countries threatened to bomb Syria again.
The naval force will include ships from the Russian Northern, Baltic, Black Sea fleets and the Caspian Flotilla and they will be led by missile cruiser Marshal Ustinov, the ministry said in a statement.
The air force will consist of Tu-160 strRussiaategic bombers, Tu-142MK and Il-38 anti-submarine aircraft, Su-33 and Su-30SM naval aviation fighters, it said.
The group will work out a set of tasks for anti-aircraft and anti-subversive and sabotage defense as well as protection against mines, the ministry said.
The Russian embassy in the United States said in a statement on Facebook that ambassador Anatoly Antonov earlier this week met U.S. Special Representative for Syria Engagement James Jeffrey and Acting Assistant Secretary David Satterfield.
Antonov expressed to the U.S., Moscow's concerns about U.S. signals of preparing new strikes on Syria on the pretext of possible uses of "chemical weapons" by Syrians.
"We warned the U.S. not to engage in another baseless and unlawful aggression against Syria. The new aggravation in Syria would not be in anyone's national interest and only terrorists would benefit from it," Antonov said.
On Aug. 21, the United States, France and Britain said in a joint statement that "we remain resolved to act if the (Syrian President Bashar) Assad regime uses chemical weapons again."
On Aug. 26, the Russian Defense Ministry said that English-speaking foreign experts were preparing a false-flag "chemical attack" in Syria using chlorine-filled rockets so that the Syrian government will be accused.
Russian Foreign Ministry spokesperson Maria Zakharova said at a news briefing Thursday that Moscow had information that a large volume of toxic substances had been delivered to the northwestern Syrian province of Idlib.
The substances were apparently meant to be used in a staged provocation, she said.
The U.S. armed force can build up a grouping capable of launching a massive missile strike against Syria within 24 hours, she said.
According to Zakharova, around 70 aircraft with 380 cruise missiles of the United States, France and Britain have been deployed at bases in Jordan, Kuwait and Greece.
Two U.S. destroyers with 38 Tomahawk cruise missiles on board are already in the Mediterranean and they can be joined by four more warships with at least 112 Tomahawks, the spokesperson added.
The consequences of the possible aggression of the West against Syria are unpredictable and it will deal a severe blow not only to the Syrian population but also to global security, Zakharova warned.