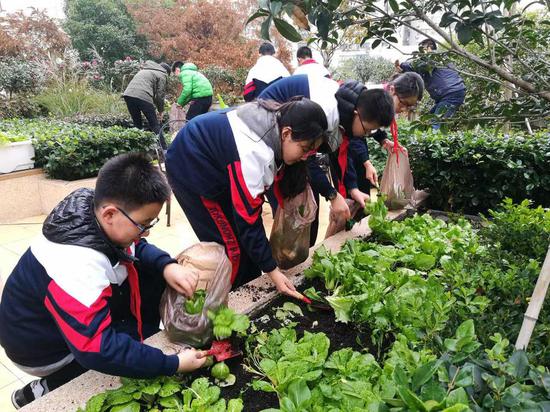 Students who live in the Caojiadu neighborhood collect vegetables on their rooftop garden, December 21, 2018. (Photo provided to chinadaily)
Shao Yunxiang, 76, who has been living in Shanghai's Caojiadu neighborhood for more than 14 years, said life in a modern city as a senior citizen doesn't necessarily have to be lonely.
Shao attends a newspaper reading activity in the community center every Tuesday, the day when the neighborhood committee prepares lunch for people over 75 years old. On Wednesday, he joins a group to learn singing.
At other times, he becomes a volunteer helping people become familiar with the city's newly launched garbage sorting.
Shao said he spends one-third of his time on community activities, which contributes to making the neighborhood "a harmonious place where people know, help and support each other".
"People who live in a neighborhood and don't know their neighbors is a terrible phenomenon, but it happens a lot in modern cities," Shao said. "We hope to build our neighborhood into a big, warm family with an excellent environment, culture and spirit."
Located in Shanghai's Jing'an district, Caojiadu neighborhood, which covers 1.5 square kilometers, is home to around 33,000 households and 82,000 residents.
To promote community governance, the neighborhood has launched various projects since 2012 to facilitate communication between residents and enhance "neighborly spirit".
One of the most successful activities is its rooftop garden project.
"Our rooftop garden began with the Meilian building in 2015, with support from enterprises and managed by residents," said Wang Yanfeng, deputy director of the Caojiadu neighborhood Party working committee.
It all started with 14 containers on the rooftop to grow vegetables and flowers. Each miniature garden is taken care of by two families, of which one has at least one elderly person at home and the other has one or more children.
Harvested vegetables are sent to the neighborhood's senior residents, cooked for the nutritious community lunch or sold during charity bazaars, Wang said.
The miniature gardens were upgraded in 2017 to include a broader variety of vegetables and expanded to more rooftops in Caojiadu, which also helps children learn about cultivating crops and vegetables.
"We hope to attract different age groups of residents to come out of their own homes and meet neighbors through the rooftop garden projects, not only the elderly but also the children, the parents and white-collar workers," Wang said. "Moreover, the gardens also help the children recognize crops, since most of them grew up in cities with little knowledge of crops."
The project wasn't always smooth sailing, though, with Wang saying some vegetables had been stolen and gardens destroyed.
The neighborhood committee has since focused more on popularizing the miniature gardens among residents and calling on them to become volunteers for the maintenance of the rooftop farms, Wang said.
There are now more than 10 rooftop gardens in the neighborhood, and some office buildings will soon build more.
Tang Lingfeng, secretary of the Caojiadu neighborhood working committee, said traditional public welfare activities organized by the committee have targeted students, the elderly and the needy, but how to engage local residents has been a challenge.
"When people get to know each other, most of the work can be easily done and promoted, which will in turn enhance community governance," Tang said.