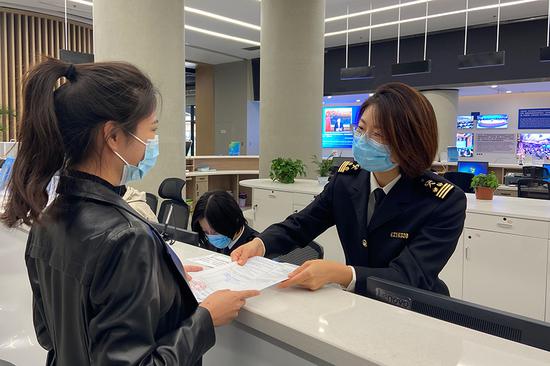 A customs officer at the RCEP Qingdao Enterprise Service Center helps a woman apply for certificates of origin. (Photo by Zhang Fang/for China Daily)
The General Administration of Customs has completed preparations for implementation of 174 items alone or jointly, accounting for 24.8 percent of the 701 binding obligations involving China under the Regional Comprehensive Economic Partnership agreement, the news website huanqiu.com reported on Wednesday.
Among the 174 items, 38 are related to the rules of origin and the tariff concessions.
The number of regulatory certificates required for import and export inspection has been cut from 86 in 2018 to 41, and 38 kind of regulatory documents can be applied, checked and cleared online through the international trade "single window".
In November, the clearance time for imports was 35.87 hours, or 63.17 percent less than that in 2017, and the time for export was 1.57 hours, a drop of 87.23 percent in 2017.
The RCEP agreement, which has China, Japan, the Republic of Korea, Australia, New Zealand and the 10 ASEAN members as members, is the world's largest free trade agreement. The 15 members' total population, gross domestic product and trade all account for about 30 percent of the world total.
China's total value of the import and export to other 14 members reached 10.22 trillion yuan ($1.6 trillion) in 2020, accounting for 31.7 percent of the total import and export value in the same period. Moreover, the figure hit 10.96 trillion yuan in the first 11 months of this year, accounting for 31 percent of the total.