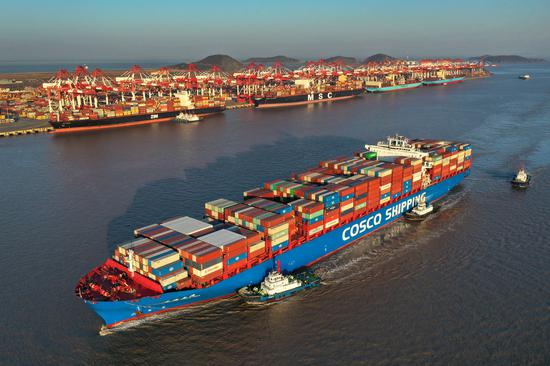 A COSCO Shipping container ship arrives at Yangshan port in Shanghai on Feb 20. (Photo by Yao Feng/For China Daily)
With the easing of the COVID-19 pandemic and vaccinations becoming broad-based, the growth rate of China's foreign trade is likely to experience a high-speed expansion in the first half of this year and a relatively slower growth pace in the second half.
Even though China's foreign trade surged more than 29 percent on a yearly basis in the first quarter, the public should not get unduly optimistic.
Instead, they should be aware that global demand for Chinese medical supplies and stay-at-home products won't sustain over the long term. The recovery of other emerging economies' supply capacity will also squeeze China's exports.
Under such circumstances, Chinese companies in both public and private sectors may want to deploy more resources to modernize industrial chains and crack open certain hard nuts like bottlenecks in technological advancements, in order to develop the country into a manufacturing powerhouse.
For its part, the government is pushing forward the transformation of its economic growth model to ensure more efficient and high-quality development. China also aims to move up the value chain to make its manufacturing sector not only big but smart and tech-savvy. Focus of such efforts is on achieving breakthroughs in key technologies.
Therefore, innovative, green and low-carbon products and solutions, including 5G, artificial intelligence, big data, the internet of things, new energy vehicles and the next-generation industrial batteries, will be the driving force of China's economic growth, particularly in the area of exports in the next phase of development.
The automobile sector, for instance, could emerge as a crucial part of China's industrial upgrade. The country has outlined a road map for developing automated vehicles, aiming to achieve massive scale in the production of driverless cars with conditional automation systems, where human drivers can take over the steering wheel in seconds, if necessary, by 2025.
The surge in China's imports in March was on the back of high international commodity prices, sending the quarter's growth rate to 19.3 percent. This fact, to a certain extent, will put extra pressure on the country's export-oriented companies.
Although the main indexes of the country's industrial production, investment and consumption have stayed in a moderate recovery range since January, prices of key commodities like iron ore and copper ore as well as soybean rose 53.5 percent, 28 percent and 11.1 percent year-on-year, respectively, in the first quarter. This price-rise has boosted the surge in China's total export-import volume.
Apart from the imbalances in the global vaccine supply situation, and restricted flow of people and cross-border goods, the pandemic will remain a major barrier to China's foreign trade this year.
Elsewhere, globalization is facing a bit of a backlash, while the politicization of trade issues has directly affected international production, and supply and trade capabilities, besides interfering with the existing international trade order.
As the international industrial and supply chains have undergone profound changes and face growing instability, foreign trade companies, from a micro perspective, are under multiple pressures. For instance, international logistics capacity is tight and freight rates are high, against a background of rising commodity, material and labor costs.
To ensure the country's export sector moves in the right direction, the government must pay close attention to the development of the global trade and economic situation, maintain policy continuity, stability and sustainability, and improve relevant trade policies to put the country's growth of foreign trade on a firmer footing.