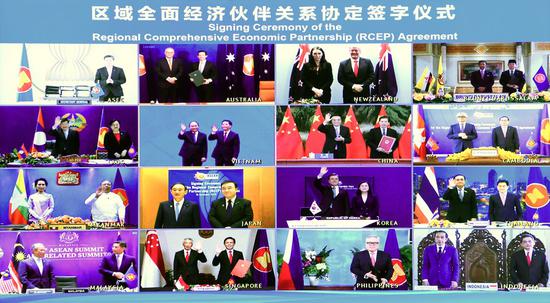 Premier Li Keqiang and leaders of other countries attend the signing ceremony of the Regional Comprehensive Economic Partnership (RCEP) agreement after the fourth RCEP Summit, which is held via video link, on Nov 15, 2020. (Photo/Xinhua)
Special: 2021 Boao Forum for Asia
The landmark Regional Comprehensive Economic Partnership trade agreement signed last year will give the Asia-Pacific region more weight in the global economic landscape and facilitate a higher standard of trade and investment to fuel growth worldwide, according to experts and business leaders on Monday.
As a significant trade deal to defend globalization and boost regional trade and investment, the RCEP is surely a shot in the arm for the multinational trade framework and gives new impetus to globalization, said Long Yongtu, former vice-minister of foreign trade and former secretary-general of the Boao Forum for Asia.
The Asia-Pacific region has gained more weight as an economic powerhouse in recent years, and with the signing of the RCEP free trade deal, the transition seems to be more obvious, Long said at a panel discussion of the Boao Forum for Asia Annual Conference 2021.
"The RCEP agreement creates a forum to actually manage the economic relationship between member countries in the Asia-Pacific region … signaling to the world that this region has to be optimized as an integrated region," said Denis Depoux, global managing director at global consultancy Roland Berger.
He said that the RCEP is creating a framework for further regional integration and a new division of labor between Asian countries, which will facilitate trade and investment for member countries and spur economic growth in the region.
"Lowering tariffs between some of these countries is also creating (growth) opportunities for the region."
Michael Lai, general manager of AstraZeneca China, said the Cumulative Rules of Origin under the RCEP framework will substantially boost China's foreign trade and outbound direct investment activities in partner countries.