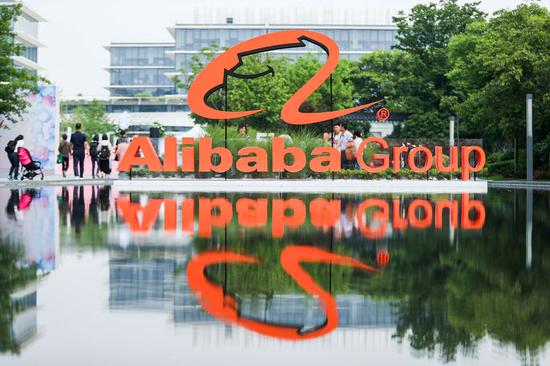 The headquarters of e-commerce giant Alibaba Group is in Hangzhou, capital of East China's Zhejiang province. (Photo by Niu Jing/For China Daily)
Chinese regulators on Saturday imposed a 18.23 billion yuan ($2.8 billion) fine in an anti-monopoly investigation of Alibaba Group Holding Ltd.
The State Administration for Market Regulation, which launched the probe into the e-commerce giant in December, charged Alibaba with abusing its market dominance.
The watchdog said its investigation concluded that Alibaba had hindered online retail in China, affected innovation in the platform-based internet economy, hurt the lawful rights of merchants and damaged consumers' interests.
The fine was equivalent to four percent of Alibaba's domestic sales in 2019, according to the Saturday statement. The company's earnings report showed it registered profits of about $12 billion in the last three months of 2020.
"Alibaba accepts the penalty with sincerity and will ensure its compliance with determination," Alibaba said in a statement soon after the decision was announced. "To serve its responsibility to society, Alibaba will operate in accordance with the law with utmost diligence, continue to strengthen its compliance systems and build on growth through innovation."
Regulators highlighted the company's malpractice of forcing collaborating merchants to choose between Alibaba's online marketplaces and those of its competitors' for selling their products, which stifled fair market order.
The announcement is the latest development in the government's increased oversight on internet companies to avoid the "disorderly expansion of capital".