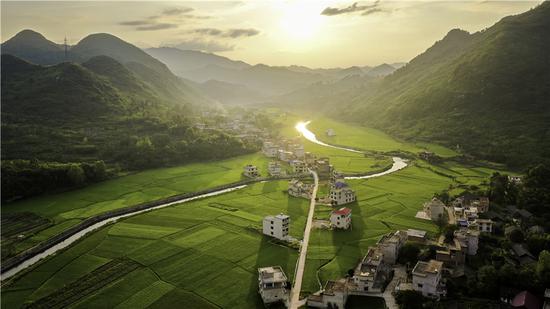 The sun sets on Jinxing village in Chengbu Miao ethnic autonomous county, Hunan province. Chengbu was removed from the list of impoverished counties at the beginning of last year, having become a booming tourism and agricultural center. (Photo provided to China Daily)
Growth push for six provinces to focus on manufacturing, green development
China's decision to provide more impetus to the growth of its central region will help the nation sustain high-quality development, narrow the regional divide and facilitate the economy's transformation in a greener and low-carbon direction, according to analysts.
A meeting of the Political Bureau of the Communist Party of China Central Committee, the Party's core leadership, reviewed on March 30 a policy document on promoting the high-quality development of the country's central region in the new era.
The meeting, presided over by Xi Jinping, general secretary of the CPC Central Committee, urged the region to develop a modern industry system underpinned by an advanced manufacturing sector, strive for green development, work toward high-quality opening-up, and enable more coordinated growth between urban and rural areas.
It was the latest move from the nation's top leadership to empower the growth of the region, which comprises Anhui, Henan, Jiangxi, Shanxi, Hunan and Hubei provinces.
Chen Weidong, head of the research institute of Bank of China, said the meeting further clarified the direction of the central region in future economic growth, with the region being an important pillar to sustain the nation's medium-high growth rate.
The central region's share of overall national GDP has risen from 18.8 percent in 2005 to 22.2 percent in 2019, he noted.
The COVID-19 pandemic, which hit the central region hard last year, and Hubei province in particular, took its toll on the region's growth last year.
According to the National Bureau of Statistics, the central region's economy expanded 1.3 percent year-on-year, which was below the national average of 2.2 percent.
"With the pandemic effectively put under control, the trend for the region's economic upgrading, transformation and quick growth will not be altered. It will continue to be an important regional powerhouse for China's economic growth," Chen said.
China first outlined a road map to spur the growth of the central region in a policy document jointly issued in 2006 by the CPC Central Committee and the State Council.
The National Development and Reform Commission issued a five-year blueprint to promote the rise of the central region in 2016, which made clear the strategic orientation of the region as a center for advanced manufacturing, a key area for the new type of urbanization, the core area for the development of modern agriculture, the demonstration zone for ecological civilization and an important support area for all-around opening up.
At a symposium he presided over during an inspection tour of Jiangxi province in May 2019, Xi outlined measures from eight aspects, including promoting the high-quality development of the manufacturing sector, improving independent innovation capacity in key areas and enhancing the business climate.
The measures stressed by Xi at the meeting were focal points in the nation's 14th Five-Year Plan (2021-25).