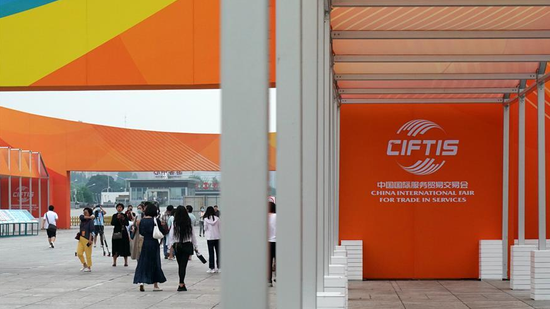 The temporary outdoor venue of China International Fair for Trade in Services in Beijing, capital of China, August 17, 2020. /Xinhua
Trade in emerging services has become a new growth driver in China as the country continues to deepen reform in trade of services and tapping new market opportunities, said an official with the Chinese Ministry of Commerce on Wednesday.
China's trade in services fell by 14.7 percent in the first half of the year due to the coronavirus pandemic, but the overall trend is stable. The performance of service trade exports was better than that in imports, and better than other major countries exporting services, said Xian Guoyi, an official of the ministry.
"The decline of overall exports of trade in services was 19.5 percentage points less than that of imports, which led to a 46.1-percent decline in the service trade deficit, a year-on-year decrease of 344 billion yuan," said Xian.
The growth rate of the exports of emerging services such as intellectual property royalties, insurance services, telecommunications and computer and information services were all above 15 percent, said Xian.
Challenges and opportunities
In the second half, the trade in services in China still faces challenges given the spread of the pandemic overseas and global economic slowdown.
But at the same time, the disease will have a profound impact on the global service trade pattern and consumption habits, unleashing new growth points, said Xian.
Last week, the country unveiled a pilot program on the comprehensive and innovative development of trade in services in 28 provinces and cities. Xian said the program will further enhance dual-cycle development pattern for service trade cooperation, with the domestic development as the main body.
The pilot program will also help deepen service trade cooperation between China and countries along the Belt and Road, injecting new energy into global service trade development.
In addition, new opportunities will be further tapped in digital trade, copyright exchange, online education and exports of other emerging services, said Xian.