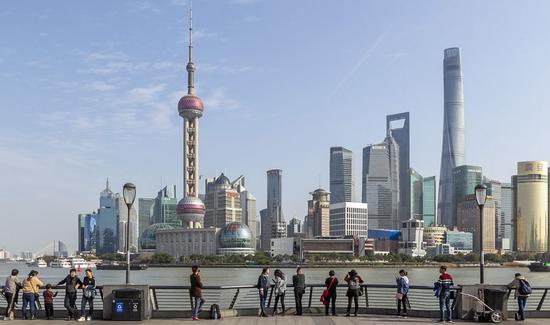 Tourists admire the skyline view of Lujiazui area at the Bund in Shanghai, east China, Jan. 6, 2020. (Xinhua/Wang Xiang)
After 30 years of accelerated reform and opening up, Shanghai's Pudong has become not only China's most iconic skyline but a symbol of the country's link with the world.
On April 18, 1990, China announced the development and opening up of Pudong. Thirty years later, Pudong's regional GDP has increased more than 210 times. It now contributes nearly one-third of Shanghai's GDP.
Besides its renowned skyline view, Pudong has more to offer. It is now home to over 1,000 financial institutions, over 300 regional headquarters of multinationals, and more than 240 foreign-invested R&D centers. Shanghai port, mainly in Pudong, is one of the world's busiest with the containers' throughput ranking the world's top for 10 consecutive years.
FROM FARMLAND TO WONDERLAND
"A single bed in Puxi is preferable to a room in Pudong." This is a popular saying in Shanghai before the accelerated development and opening up of Pudong.
The Huangpu River flows through Shanghai, dividing the city into two parts: "Pudong" and "Puxi." Pudong, which used to be occupied by farmland 30 years ago, has become a new landmark of China's reform and opening up.
The development and opening up of Pudong has brought more than just the prosperity of a single city. It has continuously delivered broad vision and new vitality into all parts of China, from the coast to the inland.
Pudong has also become a land of dreams for the world, particularly in the past few years. In September 2013, the Shanghai pilot free trade zone (FTZ) was officially launched there, injecting further impetus into its growth.
"We have connections with more than 200 countries and regions around the world. For many companies, the Waigaoqiao area of the FTZ is the closest place from the world," said Chen Yanfeng, deputy director of China (Shanghai) Pilot Free Trade Zone Administration.
With reforms including the first negative list for foreign investment, Pudong has been committed to playing by the international rules, pushing to establish systems for trade and investment facilitation.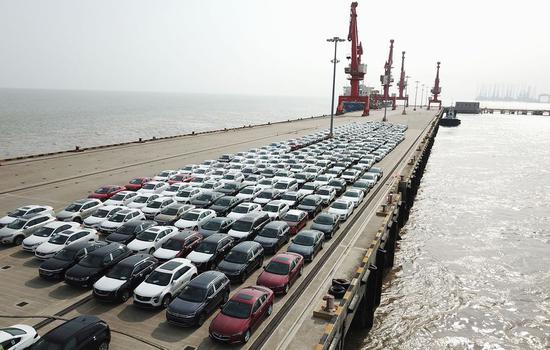 Aerial photo taken on June 27, 2019 shows new cars wating for shipment at a port in the Lingang area in Shanghai, east China. (Xinhua/Fang Zhe)