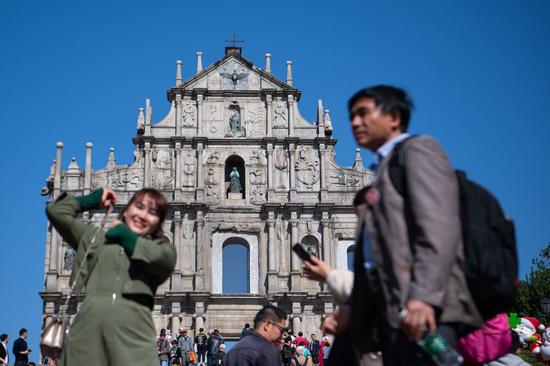 People visit the Ruins of St. Paul's complex in Macao, south China, Dec. 12, 2019. (Xinhua/Cheong Kam Ka)
Special: 20th Anniversary of Macao Return to Motherland
It takes just half an hour for Cai Yuanbo to travel from his home in Macao to his office in Hengqin, Zhuhai City on the Chinese mainland.
After graduating from university, Cai started his own company Discover Macao, an online tourist platform which provides 1,700 travel programs.
About 62 percent of the users are people residing in the Guangdong-Hong Kong-Macao Greater Bay Area city cluster.
Cai is one of a growing number of young people who live and work between Macao and the mainland and have witnessed the robust shared development between the two.
STRONG SUPPORT
Macao has enjoyed strong support from the mainland since its return to the motherland in 1999. The Macao Special Administrative Region (SAR) was established and the region has been thriving under the "one country, two systems" principle.
Every morning, trucks loaded with fresh produce run through Zhuhai's Gongbei Border Checkpoint to markets in Macao.
The mainland also provides 88 percent of Macao's power supply and 98 percent of its water supply.
On top of material support, the mainland has issued a series of policies and measures over the years to boost the development of Macao.
In 2003, the mainland and Macao signed the Closer Economic Partnership Arrangement. That same year, mainland residents were allowed to visit Macao under the Individual Visit Scheme.
In 2009, the central government approved a plan to build Hengqin in Guangdong Province into a model for cooperation.
In 2014, a new campus of the University of Macao was opened in Hengqin, enabling the university to raise its enrollment to about 10,000 at present.
In 2018, the Hong Kong-Zhuhai-Macao Bridge opened to traffic.
In February, the outline development plan for the Guangdong-Hong Kong-Macao Greater Bay Area (GBA) was unveiled, designating Macao as one of the four core cities in the region.
A new raft of policies was announced in November to make it easier for Macao residents to live, study and work in the bay area, as well as strengthen personnel, material and financial exchanges.
With the support, Macao has achieved rapid development over the past 20 years with its gross domestic product rising to 444.7 billion patacas (about 55 billion U.S. dollars) in 2018 from 51.9 billion patacas at its return to the motherland.
"The past 20 years has witnessed the fastest and greatest development in Macao's history, with macroeconomic indicators showing brilliant performance," said Fu Ziying, director of the Liaison Office of the Central People's Government in the Macao SAR, adding that he believed the GBA will bring Macao even greater opportunities.
A survey by the General Association of Chinese Students of Macao in 2019 found that Macao youths are more optimistic about education and career prospects in the GBA. About 46 percent and 43.3 percent of the respondents are interested in study or work in bay area cities other than Macao respectively.
Chief Executive of the Macao SAR Chui Sai On said the confidence of Macao residents comes primarily from the country's strong support for Macao.
SENSE OF BELONGING
Ordinary residents stand to gain from Macao's rapid development. The per capita GDP of the region reached about 83,000 U.S. dollars in 2018.
The unemployment rate remained steady at 1.8 percent, according to the latest official statistics.
Life expectancy has reached 84 years, among the highest in the world.
The growing sense of gain nurtures a stronger sense of belonging, but even more important is the success of patriotic education. The core values of "loving the country and Macao" are taking root.
Schemes and programs were developed to encourage Macao students to learn about Chinese history, cultural traditions and laws to gain a deeper understanding of their country.
Many schools use textbooks published through collaborations between mainland and Macao institutions. At all levels of education in Macao, from primary schools to colleges and universities, the national flag flies high.
More Macao students have enrolled in mainland universities and colleges. In 2019 alone, 30.9 percent of Macao's high school graduates chose to pursue higher education on the mainland.
"Studying on the mainland, our students can even better witness the development of the motherland," said Kou Kam Fai, principal of Pui Ching Middle School.
GIVING BACK
Paulina Pereira Che, who grew up in a Chinese-Portuguese family, witnessed Macao's transformation from a small city to a world leisure center after its return to the motherland.
She is now a senior manager of an international resort and hospitality enterprise in Macao in charge of meetings and exhibitions.
"At the beginning, we only hosted small meetings with 50 attendants. Now the number is in the thousands for a single event," she said.
With the idea of giving back in mind, she helped a girl from a poor family in Congjiang, Guizhou Province continue her education. Her contribution is part of a collective effort.
Macao has been a partner of Congjiang in poverty alleviation since 2018. The Macao SAR government has provided financial and material assistance to the county, and particularly helped train local teachers.
Macao also has rich experience in community service and elderly care.
The General Union of Macao Residents Associations is cooperating with counterparts in Guangdong to improve their community and senior care service for mainland residents.
Macao is also playing unique roles as a platform for commercial and trade cooperation between China and Portuguese-speaking countries and a key city along the Maritime Silk Road under the Belt and Road Initiative.
The Forum for Economic and Trade Co-operation between China and Portuguese-speaking Countries was established in Macao in 2003. Five ministerial meetings under the framework have been held.
Macao, in the meantime, is actively diversifying its economy to develop its conference and exhibition industry, financial industry, traditional Chinese medicine industry and cultural and creative industry.
It is emerging as a world center of tourism and leisure, receiving 35.8 million visitors in 2018, a leap from fewer than 8 million in 1999.
"As of today, the basic structure of a moderately diversified economy has taken shape in Macao," said Leong Vai Tac, secretary for economy and finance of Macao.
"We hope the central government and various departments will continue their support for Macao," said Ho Iat Seng, incoming chief executive of the Macao SAR. "Macao will also strive to make bigger contributions to the country's development."