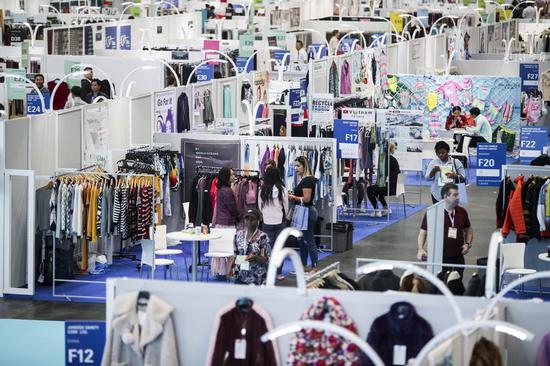 File photo: People visit the 20th China Textile and Apparel Trade Show in New York, the United States, July 22, 2019.(Xinhua/Wang Ying)
The spillover of the U.S.-initiated trade war with China will have a more serious impact on global economy, a U.S. scholar has said.
Jon R, Taylor, political science professor and department chair at the University of Texas at San Antonio, told Xinhua in an interview last week that the economic chaos being created between the two largest global economies has impacts on the world.
"While we may not notice it very much in the United States yet, other parts of the world are already noticing it, and they're going to notice it even more," Taylor said.
The professor said the year-long trade dispute has hit American economy hard, especially the agriculture sector.
"I think in particular farmers in Iowa and other farmers throughout the Midwest are being seriously hurt by the tariffs. They are wrecking the livelihoods, not only of individual farmers but the corporate farmers as well," he said.
He cautioned that if the trade friction continues, the United States "will be in a recession, probably sometime during the (U.S.) presidential election year."
Besides, he argued, the trade friction could also create political instability in the world.
"Economic instability leads to political instability, which leads to civil war, riots and political unrest," he said, adding that countries that are already going through hard times economically are more vulnerable to such impact.
U.S. President Donald Trump tweeted earlier that his administration would raise the 25-percent tariff already placed on 250 billion U.S. dollars' worth of Chinese imports to 30 percent, and that the 10-percent tariff on the remaining 300 billion dollars' worth of Chinese goods scheduled for Sept. 1 would go up to 15 percent. China also announced countermeasures.
China on Monday announced that it had filed a case at the World Trade Organization (WTO) against the United States following Washington's recent tariff measures.
The tariffs imposed by the United States severely violated the consensus reached by the two heads of state in Osaka, a statement released by China's Ministry of Commerce said, adding that China is extremely dissatisfied with and resolutely opposes the tariffs.